Current events
March is the start of the breeding season for the endangered Brown Toadlet with males calling.
See the March bio-calendar to see what some of our native plants and animals are doing this month.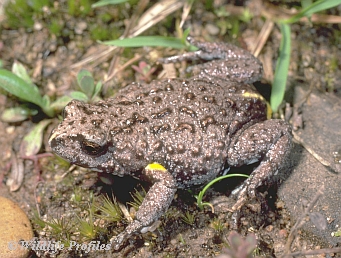 Brown Toadlet Pseudophryne bibronii Endangered
Listed under Victoria's FFG Act 1988
Add your event to SWIFFT - simply Contact Us with details.
Events in March 2017
Australasian Bat Night is a public awareness programme aiming to educate people about bats, to raise the profile of bats and debunk the myths and fears, to achieve better conservation outcomes and assist people to live with bats. ABS invites local government, community and environmental and individuals to register events and activities for Australasian Bat Night 2017. Please consider holding a Bat Night event this year and promoting the program to your colleagues, friends and family and networks. See link for more details.
Location: Anywhere in Australia
Contact: Australasian Bat Society Inc
Tuesday 14th |

Wider Geelong Flora Lecture - Mistletoe

Geelong Field Naturalists Club invites interested people to come along and hear Peter Rogers from Ringwood Field Naturalists Club talk about Mistletoes. Arrive at 7 pm for a cupper.

Location: Geelong Botanic Gardens meeting room
Contact: John Bell - Geelong Field Naturalists Club | Phone: 52613543 or 0417143191
The Ecolinc Sustainability Expo includes an extensive number of workshops, demonstrations, market, talk to the techsperts, food, music, competitions and activities for the whole family.
Location: Ecolinc Science and Technology Innovations Centre, 17-23 Labilliere Street, Bacchus Marsh VIC
Phone: 03 5367 0171