Current events
By mid January the Hooded Plover breeding season is well underway. Eggs could be on the beach, chicks hatching or chicks walking on beach this time of the year.
See the January bio-calendar to see what some of our native plants and animals are doing this month.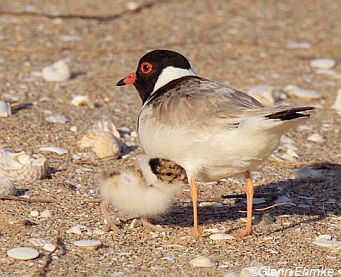 Hooded Plover - vulnerable
Listed under Victoria's FFG Act 1988
Add your event to SWIFFT - simply Contact Us with details.
Events in January 2018
The 2018 Summer by the Sea program runs from 2 - 28 January. There are more than 300 free activities along Victoria's coastline. The annual program encourages Victorians to learn more about our remarkable coastline through a diverse range of events and experiences. Bookings are required for these free events: https://summerbythesea.vic.gov.au/  
Location: Victorian coastline - various locations
Contact: Coastcare Victoria
Saturday 6th |

Hooded Plovers and dog owners

The Beach Nesting Birds team at Birdlife Australia will be chatting to dog walkers about beach nesting birds, and handing out free goodie bags for the dogs, and having some muffins/croissants/breakfast for the humans, and just letting people know about how they can help.

Location: Warrnambool - Hopkins River Carpark (Bluehole Rd).
Contact: Renee Mead - Beach-nesting Birds Project Officer
Wednesday 10th |

Hooded Plovers and dog owners

The Beach Nesting Birds team at Birdlife Australia will be chatting to dog walkers about beach nesting birds, and handing out free goodie bags for the dogs, and having some muffins/croissants/breakfast for the humans, and just letting people know about how they can help.

Location: Port Fairy - George Dodds Reserve
Contact: Tracey Gray or Renee Mead | Phone: 0422 798 388
Friday 12th |

Warrnambool Summer Night Market - Hooded Plover stall

Learn about Hooded Plovers, plus badge making for kids at the Hooded Plover - Birdlife Stall.

Location: Lake Pertobe
Contact: Tracey Gray
Friday 19th |

Warrnambool Summer Night Market - Hooded Plover stall

Learn about Hooded Plovers, plus badge making for kids at the Hooded Plover - Birdlife stall.  

Location: Location: Lake Pertobe
Contact: Robyn Bush