Land for Wildlife
A positive way of looking after your habitats is to join the Land for Wildlife Scheme. This is a voluntary no cost way of recognising your commitment to wildlife habitat. You receive technical and educational support from a regional extension officer, an informative notes series and the schemes newsletters, the Land for Wildlife news.Members are welcome to attend field days and are informed of incentive programs as they arise.
To qualify for Land for Wildlife status a property must contain either existing remnant habitat or the landholder must be making an effort to create habitat on their property. Once an assessment is completed and you become a member a sign is issued which recognises your commitment to wildlife habitat.
Becoming a Land for Wildlife member does not alter your property rights in any way, it is a self-governed opportunity to contribute to sustained biodiversity through habitat protection.

Wildlife habitat on private land can be crucial in contributing to the survival of native plants and animals, particularly in areas where landscape change has removed or significantly altered habitat. Retained habitats can also provide important links between properties and larger park or reserves. There are also many benefits to farming through reduced erosion, provision of stock shelter and in some cases reduced salinity, thereby increasing the land value and creating a more aesthetically pleasing environment.
Contacts:
Interstate & International
Grampians
Peter Johnson (03) 54304358 - Horsham & Grampians areas.
South West Victoria
Peter Johnson (03) 5430 4358 - Warrnambool, Heywood & Portland areas.
North East Victoria
Nigel Waterhouse (03) 5772 0265, Alexandra, Benalla, Wangaratta, Wodonga & Upper Murray Areas.
Central, South & West Gippsland
Kylie Singleton (03) 5172 2123
East Gippsland
Faye Bedford (03) 5152 0400 - Bairnsdale & Orbost
North Central Victoria
Kelsey Tucker (03) 5430 4631 - Bendigo area
Melbourne & Port Phillip
John Hick (03) 9210 9326

- also

Geelong & Colac
Land for Wildlife Notes ( 43 back copies)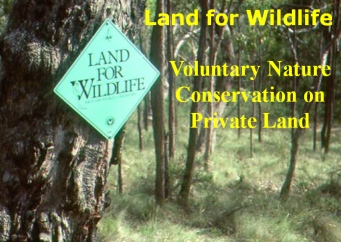 See also:
SWIFFT video conference talks related to Land for Wildlife
Threatened species conservation on private land