Recommended references
Web links
Resources
Citizen Science web sites
Organisations working to conserve our species
Topical sites
Recreating the Country - this website explores ways to keep our natural ecology healthy and thriving for future generations, Authored by Stephen Murphy.
Natural Newstead - observations of flora, fauna and landscape in central Victoria, Authored by Geoff Park.
Journals
Books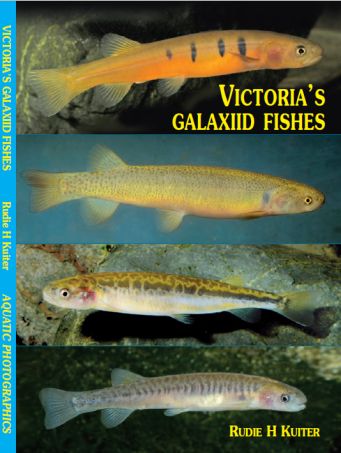 Victoria's Galaxiid Fishes

Published February 2018, Aquatic Photographics
An informative pictorial book on Victoria's Galaxiid fishes with images collected over 30 years. Many populations of the taxa are no longer found due to rapid changes in their environment. The book outlines threats to these small native fish which are an often overlooked part of Victoria's biodiversity.
Free download available via ResearchGate
---
Flora of the Otway Plain and Ranges
Volume 1
Petaloid Monocotyledons
(orchids, lilies, irises, grass-trees,
mat-rushes and more)
This area of south-eastern Australia has a rich and exceptionally diverse flora with over 130 orchid species represented in this volume.
By Enid Mayfield
Available from:
CSIRO Publishing, Ph. 1300 788 000 e-mail: publishing.sales@csiro.au
---
Flora of the Otway Plain and Ranges
Volume 2
Daisies, Heaths, Peas, Saltbushes, Sundews,
Wattles and Other Shrubby and Herbaceous Dicotyledons
By Enid Mayfield
This visually superb and informative field guide is the second volume of Flora of the Otway Plain and Ranges, and covers more than 480 species of Daisies, Heaths, Peas, Saltbushes,Sundews, Wattles and other shrubby and herbaceous Dicotyledons. The illustrated family key is unique and covers 75 families and over 200 genera. Each species is illustrated and labels provide a clear key to identification for botanists and amateurs alike.
The Otway region of Victoria, with its temperate rainforests, mountain ash forests,heathlands, plains and coastal dunes, has an extraordinarily rich and diverse flora.
CSIRO Publishing, PO Box 1139, Collingwood, VIC 3066, Australia Tel: 1300 788 000 (local call in Australia), Fax: +61 (0)3 9662 7555 Email: publishing.sales@csiro.au
---
Orchids of the Anglesea District. A Field Guide.
Second edition.
Everett Foster and Margaret MacDonald
Available from ANGAIR Inc link to ANGAIR Ph: (03)52631085
---
What South Eastern Native Plant is that?
Book on native plants for south eastern South Australia - released March 2010
Author: Neville Bonney
Cost: $45 inc. GST
Contact: Kirsty Heaver, South East Natural Resource Management Board
Order: from the South East Natural Resource Management Board
PO Box 30, Mt Gambier, 5290, South Australia
Phone: 08 87246000

This book will have relevance to many species found in south-west Victoria and the southern boarder area of Victoria and South Australia.
---
Moths of Victoria
Part 4 - Geometridae - Emeralds and allies, Peter Marriott
Part 5 -Geometridae - Satin moths and allies, Marilyn Hewish
This is the second book of geometrids, adults of the familiar looper caterpillar. They range from small day-flying to robust and intricate patterned creatures of the night. With 180 species and over 700 images this book presents every known Victorian moth in these two groups for the first time. Accompanying disk provides over 380 additional pages with information, biology and distribution for each species. Order form
Brochures & field guides
Brochure: Indigenous Wildlife of the Southern Grampians
---
Brochure: Victorian Volcanic Plains Grassland Species
---
Brochure: Indigenous Wildlife of the Upper Barwon
---
Brochure: Indigenous Flora of the Upper Barwon
---
Nightlife of Australia South-eastern Forests
This is a CD produced by Ed McNabb that has night calls for 53 species of nocturnal birds and mammals. For more information and order Ninox pursuites
---
Swift Parrots of Muckleford DVD
The DVD was funded by The Norman Wettenhall Foundation & The Melliodora Fund. The DVD runs for 25 minutes and features Chris Tzaros from Birds Australia, The aim of the DVD is to help people to identify Swifties by sight and by call. There is also some rare footage of their feeding habits at Muckleford.If anyone is interested in purchasing a copy please contact swiftparrotsofmuckleford@hotmail.com. The DVD is $20
---
A Glove Box Guide to Understanding and Improving Woodland Ecosystems in the Mid Loddon
This Includes a special feature on the Bush Stone-curlew as a focal species. This Guide is published by the Mid Loddon Sub-Catchment Management Group. PO Box 2197, Bendigo DC 3554. (2.7 MB pdf version)
A Glove Box Guide to Understanding and Improving Woodland Ecosystems in the Mid Loddon
.
---
Name those grasses - identifying grasses, sedges and rushes
An extensively illustrated book explaining:
The structure of Grasses and several similar groups.
The descriptive terminology.
The process of identification.
Author: Ian Clarke
Published November 2015 by: Royal Botanic Gardens Victoria, Birdwood Avenue, Melbourne 3004.
Sample text pdf
---
Start with the grasslands - Design guidelines to support native grasslands in urban areas
Victoria's urban grasslands are endangered. The Victorian National Parks Association, with support from the Australian Institute of Landscape Architects, has been developing design guidelines to support native grasslands in urban areas. Chapters include;
Seven principles for grassland design
From planning to maintenance
Planning guidelines
Design guidelines
Typical cross-section
Guidelines for transition to construction
Case studies
Free on-line access.
Purchase report from VNPA on-line store $30
---
A Field Guide to Saltmarsh Plants in Victoria
By authors Mary Ellis, Lorraine Norden with illustrations by renowned artist Celia Rosser.
This 50 page field guide provides descriptions of the most commonly found saltmarsh plants. It outlines the importance of Victoria's saltmarsh wetlands and helps to raise community awareness and education of the role that saltmarsh plants play in the ecosystem.
This book will of great value to many people and assist with the ongoing recognition and protection of saltmarshs.
The book can be purchased by e-mailing South Gippsland Conservation Society shop@sgcs.org.au and arranging for copies $29 each.
Direct Deposit Payments to;
BSB: 633 000
Account: 152103768
Bunurong Environment Centre
Or by E-mailing Pauline Taylor, Shop Manager Bunurong Environment Centre, South Gippsland Conservation Society
PO Box 60 Inverloch Vic 3996, Tel/Fax: (03)56743738
website: www.sgcs.org.au
---