Regent Honeyeater Captive Release 2017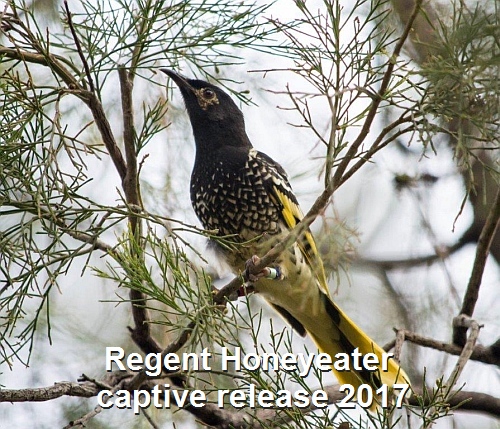 This page builds on information regarding the Regent Honeyeater captive release program. For more details on previous years activities See: Regent Honeyeater Captive Release 2015 - 2016
Update No. 3, 19 April 2017 ( 8 days post first releases)
Update No. 1, February 2017
2017 releases
The captive breeding of Regent Honeyeaters at Taronga Zoo has been very productive over the last 2 years. The Zoo is set to provide a record number of birds (90+) for the 2017 release (well in advance of the 77 birds released in 2015).
Update No. 2, March 2017
Release dates: Wednesday April 12th and Sunday 16th April (Easter Sunday) in the Chiltern-Mt Pilot National Park. Exact numbers have not been made available yet but 2017 will be the largest cohort of Regent Honeyeaters ever released into the wild.
The releases will provide a unique opportunity for the community to witness the world's largest Regent release to date.
Opportunities to view or monitor
There are a number of ways you can be involved but all require pre-registration which must be done by Wednesday April 5th. Please Email Liz Wemyss or Glen Johnson to indicate whether you:
1) Wish to attend the Wed 12th April and/or Sun 16th April captive releases. Please indicate:
a) Viewing only - not participating in monitoring on the day(s); or BYO
b) Viewing and able to participate in monitoring on the day(s) see pt 2 below

2) Can assist in post-release monitoring during the initial 10-12 week tracking period (and potentially up to 30 weeks of Regents in the park while flowering resources last this season). Please also indicate the potential level of participation:
a) One-off day(s) - please advise date(s) if possible
b) Regular one day per week - pleases advise likely day
c) Two or more days per week - please advise likely days or whether weekend available.
When you RSVP - Please ensure you provide your full name, email address, mobile phone number.
It is essential that volunteers who wish to assist in surveying register their interest as above. We'll then provide essential information including links to free phone apps that must be undertaken/downloaded prior to arriving on site.
Regent Honeyeater captive releases 2017 - volunteer FAQ pdf
Release process – what happens on the day?
On both the 12th and 16th of April, the Regent Team require those coming to view the releases to be at the release site by 7:30am in order to complete sign- in's, safety & project briefings and allocating people to post-release monitoring groups. Everyone needs into place by 8:45am as the tents will be opened at 9:00am sharp! Don't miss your chance to see this amazing sight.
Volunteer monitoring opportunities
Post release monitoring is a critical part of the Regent Honeyeater conservation effort.
The 2017 project will once again provide a opportunity for volunteers to have a unique hands on role in a threatened species monitoring program. The main activity is radio tracking and associated visual confirmations of released (and any wild) Regents, however there are also opportunities to help with radio communications, data collation, office based roles and even moving equipment around.
Monitoring will be undertaken over an extended three to more likely six month period (mid April onwards). In the first couple of weeks post release the Regent team will probably be running a daily monitoring program (8.30am starts) but will scale back progressively over the weeks. At least one weekend day/week will be included. Great opportunities exist for those that can undertake monitoring on a regular basis e.g. each Monday or for several days at a time.
This year volunteers will be able to use electronic monitoring via use of some Apps for smart phones and tablets – Survey123 and HandyGPS.
Regent Honeyeater research continues
A PhD research project identified new factors influencing breeding success (or lack thereof) during the 2015 season. Research will continue in the Chiltern-Mt Pilot National Park this year to assist again with the monitoring program including investigating breeding outcomes and trial techniques that aim to reduce nest predation and increase the recruitment of fledglings into the population.
Update No. 3, 19 April 2017 (8 days post first releases)
Releases
Over 100 privileged participants plus assembled media were present for the release of 50 captive bred Regent Honeyeaters on Wednesday 12 April. A further release of 51 Regent Honeyeaters planned for Saturday 16 April was postponed until further notice due to a high mortality of released birds.
Despite a higher than usual level of mortality on the first release for 2017 these releases totalling 101 Regent Honeyeaters will provide a significant injection into this critically endangered species population.
View release video https://www.facebook.com/DELWPHume/videos/1015590018573668/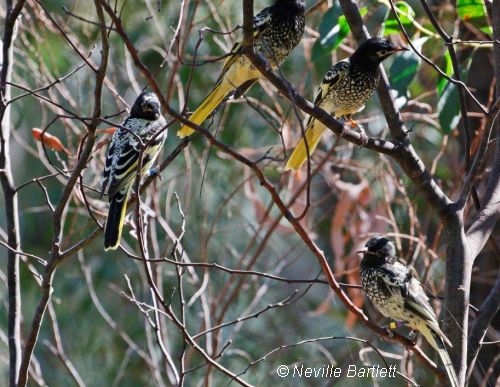 Neville Bartlett's great post release shots show Regent's once again dominate at least a small patch of the Chiltern Mt. Pilot National Park.
- pick those wearing transmitters (aerials showing) (read bands left leg 1st: this bird is known as "Orange Metal Blue Red"). Image: Neville Bartlett.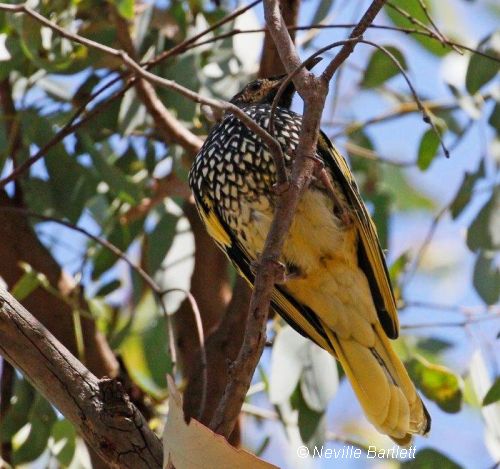 The first wild bird record for the season (above) was obtained by volunteers who noted two released birds interacting with a wild Regent. This demonstrates the value of great volunteers and the release program. Image: Neville Bartlett.
Tracking results
All 24 birds with transmitters were recorded safe and well by the end of day two and many of the remaining birds (with no transmitters - but wearing their unique coloured leg bands ) were also confirmed three days after release. These results were in line with previous releases however, by the end of the first five days of monitoring a total of 12 (24%) of the 50 released birds, all wearing transmitters and harnesses, were found dead. This was very unexpected as all four previous Chiltern releases (2008, 2010, 2013 and 2015) had 95% or better survival in the first week.
Early indications are that some of the dead Regents had lost body condition possibly due to starvation as there may have been sub-optimal nectar flow despite seemingly adequate Mugga Ironbark flowering (similar to the 2015 release). It is also known that birds in poor condition, particularly those wearing transmitter and antennae, are susceptible to increased (Goshawk/Sparrowhawk) predation or starvation risk.
No further mortalities
Since the initial mortalities in the first week there have been no further deaths or bird welfare issues in the days since. All remaining Regents are feeding well from Ironbark flowers, plus gleaning insects from foliage or aerial hawking and more recently dunking into water to wash excess, sticky nectar off their plumage nectar (all good signs).
Food availability
Since the first release the monitoring team have noticed an increasing abundance of other nectivorous birds within the release area and rapidly improving Mugga Ironbark flowering abundance.
There is a favourable forecasts of an extended flowering season through winter into at least early spring.
Project support
The 2017 Regent Honeyeater Captive Release and Community Monitoring Project is collaboratively funded by the Victorian Government's Icon Threatened Species Program (part of the recently launched 'Protecting Victoria's Environment - Biodiversity 2037'), North East Catchment Management Authority (NECMA) through the Australian Government's National Landcare Programme, BirdLife Australia and NSW's Office of Environment and Heritage's Saving Our Species Project.
Assist with monitoring
Please Email: Liz Wemyss "Elizabeth.Wemyss@delwp.vic.gov.au" 0417 312 592
Please ensure you provide your full name, email address, mobile phone number. (Liz will provide essential information including links to free phone apps that must be undertaken/downloaded prior to arriving on site).
Note: there are spare phones with apps already installed that are available for volunteers that have old, dodgy or no phone - or you can team up with others that have appropriate smart phones.
Report any sightings
Please let the Regent Team know ASAP if you spot any or hear of Regents observations (so they can help follow-up to check for further birds etc). Reports of incidental sightings have proven to be very valuable in the past. Remember to check for bands with binoculars and take & forward photo's were possible.
Contacts: Glen Johnson (DELWP Wodonga) 02 6043 7924 or Dean Ingwersen, (Woodland Bird Program Manager and
Regent Honeyeater recovery coordinator, BirdLife Australia), 03 9347 0757 ext 247
See also; Regent Honeyeater Captive Release 2015 - 2016