Calendar of events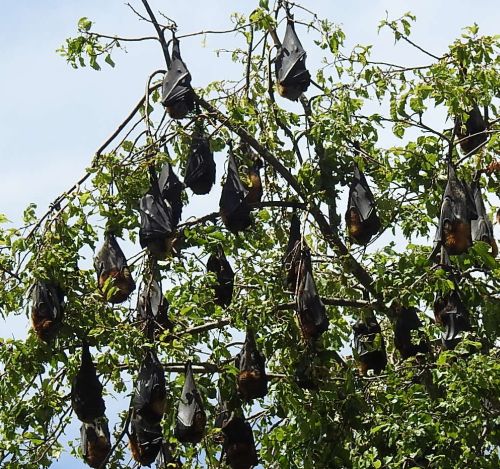 April is a peak month for Grey-headed Flying-fox breeding. Vocal communication is highly sophisticated, with over 20 situation-specific calls used. Most births occur in October.
See the April bio-calendar to see what some of our native plants and animals are doing this month.

Events in June 2019
Wildlife Photographer of the Year is the most prestigious photography event of its kind, providing a global platform that has showcased the natural world's most astonishing and challenging sights for over 50 years. On loan from London's Natural History Museum, the exhibition features exceptional images which capture fascinating animal behaviour, spectacular species and the breathtaking diversity of the natural world. Daily until 14 July 2019.
Also opportunity to view some of the 'Now you see us' public art project based on the 84 species of threatened birds in the City of Greater Geelong.
---
Barwon River Public Meetings Various locations in Barwon catchment Monday 3rd
7:00pm - 9:00pm

Have your say in looking after the Barwon River. The Barwon Ministerial Advisory Committee is asking the community to have their say on how the Barwon river is managed into the future. The Barwon is a big system.
It's a country river and a city river. The Leigh and the Moorabool feed into it, and wetlands and aquifers are as important as the flow in the river itself. How we manage our use of the Barwon is up for a rethink.
Join us for 9 Local Discussions through the catchment, then three Pressure Point workshops, to work out what needs to be improved, in the River and in its management.
Birregurra 3rd June, Birregurra Hall, 42-44 Main St
Forrest 4th June, Forrest Community Multipurpose Building, 47 Grant St
Winchelsea 5th June, Winchelsea Community Hub, Hopkins St
Mount Clear June 11th, Earth Ed Centre, Olympic Avenue
Meredith June 12th, Royal Hotel, 20 Wallace St
Bannockburn June 13th, Bannockburn Cultural Centre, 27 High St
Geelong/Bellarine area, dates to be announced
Contact:
Sarah Brien Project Officer, Upper Barwon Landcare Network |
Phone:
0419 545 548
---
---
The The Public Land Consultancy are offering a one-day course on Land Law for Managers of Rivers and Lakes. Riparian land is of vital environmental and recreational significance, yet its governance is often bogged down in archaic legislation and irrational administrative arrangements. This course explains it all, and examines the reform agenda likely to arise from evolving government policy.
A limited number of places are available (maximum 10 participants).
Contact:
Jacqui Talbot
|
Phone:
9534 5128
---
FungiMap Worksop 'The Well' 19 Heales Street, Smythsdale Sunday 9th
10:00am - 3:00pm

Free Event
Join FuniMap mycologist Dr Sapphire McMullen-Fisher for a free morning workshop 10am 12.00 about locally recognisable and lost fungi, the vital ecosystem services they provide and how to record and share the fungi you find using the iNaturalist App., to improve understanding and conservation of these important species.
Practical survey in the afternoon 12- 3pm with Sapphire, the Ballarat Environment Network and Ballarat Field Naturalists Club.
RSVP Emily by 5 June
Contact:
Emily Noble
---
Wider Geelong Flora Lecture - 'Roadside & Reserve vegetation in Armstrong Creek' Geelong Botanic Gardens meeting room (Entrance at intersection of Holt Road and Eastern Park Circuit) Tuesday 11th
7:30pm - 9:00pm

The Geelong Field Naturalists Club invites interested people to hear guest speaker Mr Phil Hunter from (GFNC) who will speak about issues associated with Roadside and Reserve vegetation in Armstrong Creek. Tea and Coffee from 7 pm.
Contact:
info@gfnc.org.au
---
This (free) conference is jointly hosted by Federation University Australia, La Trobe University, Deakin University, Charles Sturt University, University of Melbourne, Parks Victoria and other research partners.
The keynote address will be delivered by Professor Leslie Hughes (Pro Vice-Chancellor (Research Integrity and Development) and Distinguished Professor of Biology at Macquarie University). Plenary speakers: Professor. Max Finlayson (CSU); Professor. Brendan Wintle (The University of Melbourne) and Professor Kathryn Williams (The University of Melbourne).
An exciting and eminent group of speakers will be presenting at this conference.
The focus of the 2019 conference will be:
Restoration and management of ecosystems in a changing climate,
Threatened species: solutions under climate and landscape change,
Managing water ways and wetlands in a changing climate, and
Connecting people and nature: values, ethics, communication, and practice.
Registration required.
Contact:
Singarayer Florentine (Florry).
---
Everyone is encouraged to learn about the diversity, beauty and importance of the Grey Box Grassy Woodlands. Join Paul Foreman, a field botanist and ecologist, on this visit around the significant Grassy Woodland sites of Murchison. Do you have a patch on your property? Can it benefit the edge of your cropping paddock and farm? Discover how to recognise and identify Grey Box Grassy Woodland, its values and significance.
Contact:
Carolena Helderman, Goulburn Murray Landcare Network
---
A FREE FUN EVENT for farmers and their families, rural businesses and the wider rural community to come together to socialise and find out about the networks and services out there – all welcome.
Visit a stand or have a chat with: Rural Counsellor Ivan Lister, Rural Finance
Counsellors, Rural Nurse and many more!

Dinner provided, BYO refreshments, door prizes, kids corner (puppet show at 6.30pm followed by a movie screening).
Bookings required. https://www.trybooking.com/book/event?eid=509007&
Contact:
Strathbogie Shire Customer Service |
Phone:
1800 065 993
---
Shorebird Identification Workshop Crossley Hall, St Bridges Church. 212 Koroit Port Fairy Rd , Crossley Monday 24th
10:00am - 3:00pm

Free Event. Join BirdLife Australia's 'Migratory Shorebirds' team for a workshop and beach walk, where you can learn more about the amazing lives of this diverse group of birds, the threats they face and how you can help them survive! RSVP to Dan Lees
Contact:
Dan Lees, Beach-nesting Birds Project Officer Birdlife Australia
|
Phone:
0400 090 767
---