Arthur Rylah Institute, Seminar Summaries provide a brief overview of presentations made at scheduled seminar sessions at ARI on Mondays 1-2 pm. These seminars are free and also available via live online webinar – registration required.
Summaries from recent ARI seminars
Conservation benefits of managing island pests - Lachlan Francis
18 February 2019
Lachlan evaluated the consequences of cat management on Bruny Island, Tasmania. Expert opinions informed population models to understand how native species (plovers, shearwaters, pardalote, penguins and quolls) would be impacted by cat control. Field research showed that cat management would not change the rat population on the island. The eradication of cats poses a complex, high risk and expensive option in the Bruny Island context. In the context of investment to return, there are other islands where cat control benefits are similar but the risk and costs are expected to be lower. Lachlan also shared his experience working on Macquarie Island.
For more information, contact: Lachlan Francis
Flying-foxes in Victoria: Past, Present and Future - Rodney van der Ree (Urban Ecologist, Melbourne University)
10th December 2018
Rodney delivered an engaging summary of the Grey Headed Flying Fox's (GHFF) history in Victoria which has expanded from a single permanent colony in Mallacoota in 1986 to more than 10 colonies across the state today.
Rod spoke of:
His experience in 'herding' the flying foxes out of the Royal Botanical gardens in 2003 to Yarra Bend park over 6 months.
The natural fluctuations and movement of the GHFF populations across Eastern Australia
Public tolerance of GHFF in low numbers but at higher numbers there is increasing conflict
A possible future may be ~300,000 GHFF in Victoria in a big year (~50% of the national population)

How many carp are there in Australia? - Jarod Lyon - ARI, DELWP
3rd December 2018
Jarod presented ARI's work in estimating the biomass of carp for Australia, which is an important figure for the National Carp Control Plan.
Jarod highlighted the complexities in estimating how many carp are in each type of aquatic habitat (rivers, lakes, waterholes, estuaries, wetlands, etc.).
Decades of catch per unit effort exist but cannot be directly used to estimate total abundance (and therefore total biomass as a derivative) for Australia.
Field data was collected from across Australia to convert catch per unit effort into abundance for each aquatic habitat type. Using this conversion factor and habitat utilisation data, a biomass for carp was able to be estimated.
The final results will be announced in 2019 (and yes; preliminary estimates do involve the analogy of distances to the moon).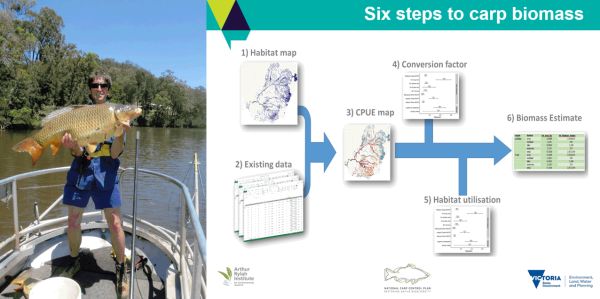 Flagship waterways: long-term and large-scale commitment to waterway health in Victoria - Dr Amber Clarke- DELWP (Water and Catchments)
3rd December 2018
Amber presented on the Flagship Waterways approach to monitoring, evaluating and reporting on waterway restoration projects.
It is an on-going challenge to communicate and demonstrate the progress of long-term waterway restoration projects, particularly when the evidence of change is slow.
The Flagship approach communicates the status of waterway recovery through four stages: 1) planning and target setting, 2) taking action, 3) recovery and growth, 4) target achieved.
Reporting to communities at a local scale, on clear management objectives and timelines, and with maps that visualise the stage of recovery, ensures that project progress will be more transparent and easier to interpret.
Flagship Waterways demonstrates a long-term commitment, involves community participation and improves on past approaches by aiming to capture social, cultural, economic and environmental benefits of waterway investment.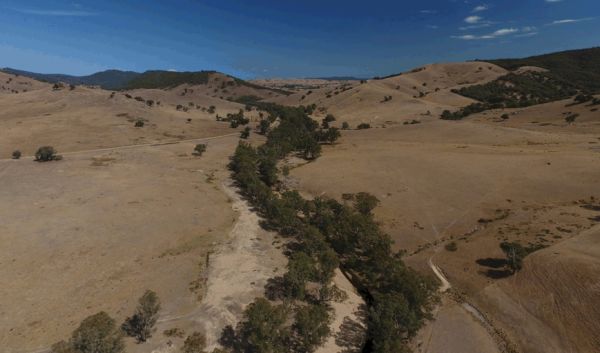 Watershed Restoration in the Pacific North West - James Capurso (Fisheries Biologist, US Department of Agriculture Forest Service, USA)
4th December 2018
Jim talked us through his department's approach to restoration of watersheds:
Passive recovery of watersheds cannot be relied on for improvements in our life time; active restoration is required
Active restoration is applied at fine scales to rapidly speed up recovery, through actions such as: fish passage, road decommissioning, large wood augmentation, stream modification, beaver reintroduction and riparian vegetation planting
The strategy is to focus on one watershed at a time and move on when it is complete
Restorations aim to increase the resilience of the watershed to natural disturbances after works are finished.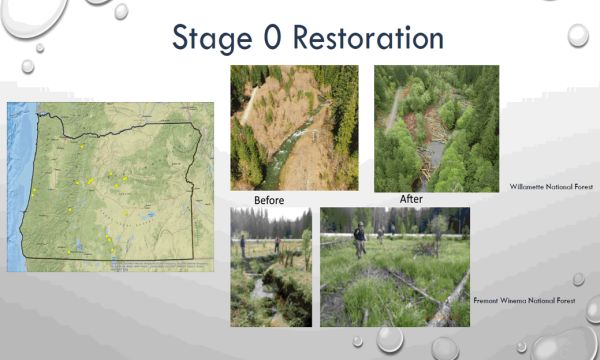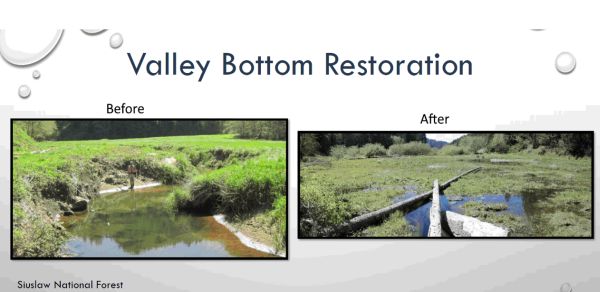 Decoupling the impacts on fisheries in the Lower Mekong Basin -Ian Cowx (University of Hull)
7 December 2018
Ian provided a masterclass on the challenges and future of inland fish in the Lower Mekong Basin.
Inland fish are a critical food resource for the Mekong Basin
There are competing demands for water as both a resource (hydropower, biodiversity, potable supply) and as a livelihood (food security, employment, social values)
Dams for hydropower are a significant threat mostly due to altered flows and restricted fish migration. A modelled worst-case scenario estimates a ~50% decline in fish yield in the Cambodian floodplain and Vietnamese delta due to 11 dams.
Many solutions exist to reduce the pressures on inland fish, ranging from shifting diets to alternative protein sources, other energy sources to hydropower (solar), increasing connectivity for fish across instream barriers and shifting livelihoods of fishing communities to other industries.
Very challenging times along the Mekong.