Calendar of events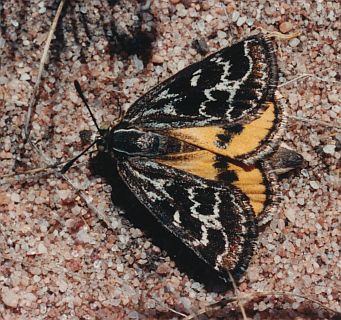 The Golden Sun Moth has a flight period of only a few days and is found to be most active on sunny, still, warm-hot days (mostly mid November to mid December). After mating the female lays eggs and the adult moths die.
See the November bio-calendar to see what some of our native plants and animals are doing this month.



Events in November 2018
This course is presented by Greening Australia. It is a 16-week course (Tuesdays & Sturday mornings). The course presents and discusses the best planning tools and management techniques available and includes plant ID, bush ecology, weed control, soils and climate, use of fire, site assessment and planning, and many more. Cost: $1,500 (Plus GST, this includes course materials and light refreshments for the evening sessions).
Contact:
Danny Reddan
|
Phone:
0409 424 128
---
Stella Bedggood Memorial Lecture 2018 Ballarat FNC Federation University building, cnr Gillies & Gregory Sts, Ballarat Friday 2nd
7:30pm - 9:00pm

The Field Naturalists' Club of Ballarat invites interested people to hear guest speaker Dr Marian Weaving, Urban ecologist and Teaching Associate at Monash University talk about 'Effects of Urbanisation on the Tawny Frogmouth'. Come along and learn how the results of Marian's research can inform the development and enrichment of new and existing suburbs to enable them to better support both a growing human population and Australian wildlife. Visitors are welcome. Entry is free and supper will be provided.
Contact:
Emily Noble
|
Phone:
0433 344 287
---
Annual Orchid Show 2018 - Australasian Native Orchid Society (Geelong Group Inc.) Christ Church Hall, Cnr. Moorabool and McKillop Streets, Geelong Saturday 3rd
9:00am - 5:00pm

Australasian Native Orchid Society (Geelong Group Inc.) presents Annual Orchid Show 2018, featuring orchid displays and sales. Entry $4, includes morning and afternoon tea. Also featuring a display by Geelong Floral Art Group.
---
Artists and friends of the Overwintering Project are invited to one of the first two exhibitions to feature all the prints to date of the Overwintering Project Print Portfolio. There are prints by over 100 artists from all around Australia as well as two from New Zealand!
Exhibition at Wyndham Art Gallery to be opened at 6.30 pm on 7 November 2018 by PCA General Manager Marguerite Brown and Master Storytelling duo Jackie Kerin and Sarah Depasquale. The Exhibition will remain open from 8 November to 31 December 2018 (9am to 5pm).

---
'Remember the Wild' invites you to come and see our Community Conservationists series in-full at the boutique Star Cinema in Bendigo. Paired with drinks, food and talks by some of the featured groups, the screening follows a highly successful premiere in Melbourne early this year. Locals should be pleased to see Mount Alexander group, Connecting Country, on the bill! Proceeds go towards supporting our Community Conservationists and the great work they do in protecting our natural environment. Tickets $30 booking available from Remember the Wild web site. see link.
---
The Woorndoo Project - grassland restoration free community day Woorndoo Recreation Reserve Friday 16th
9:00am - 3:00pm

Restoring and managing native grasslands on rural roadsides.

The Community Day Program
9am to 10am - Woorndoo Common (join in when you arrive)
10am to 10:30am - Morning tea and registration
10:30 am to 12:30 pm - Short talks session and panel Q&A
Expert speakers from DWELP; Moyne Shire; VicRoads; CFA and a local landholder (tbc) will discuss the many issues, old and new, affecting native temperate grassland on public land. This will be followed by a panel session where all the day's speakers will be available to answer your questions.
12:30 pm to 1:30 pm – Lunch and conversation
An opportunity to meet and chat with members of the Woorndoo Land Protection Group and our guests for the day. Information will be available on the Woorndoo Grassland Project – restoring diverse native grassland in this hot-spot for species-rich grassland conservation.
1:30 pm to 2:00 pm - Native grasslands as dynamic and beautiful biological communities
Ben Zeeman, Glenelg Hopkins CMA, will explore the dynamic nature of native grassland under various forms of management.
Emily Noble, Ballarat Environment Network (BEN), through her beautiful photography, will introduce the fascinating plants and other life forms that call native grasslands home.
2:00 pm to 3:30 pm – Site visit to a restored grassland and experimental site and adjacent, extensive roadside remnant native grasslands.
Registration
Please register by texting or emailing Jodie Leske (0419 583 853); jodie.leske@bigpond.com.
Please include any dietary requirements.

Contact:
Jodie Leske
---
Hooded Plover Biennial Count Saturday 17th
8:00am - 4:00pm

Key survey areas in Victoria - volunteers needed to help with the survey.
East Gippsland (Lakes Entrance to Mallacoota) *there are some large/overnight hikes on this gorgeous stretch of coast for physically fit participants
South Gippsland (Venus Bay to Corner Inlet)
Bass Coast (San Remo to Inverloch)
Otways – Apollo Bay
Shipwreck Coast (Princetown to Warrnambool, along the Great Ocean Road)
Western Victoria (Warrnambool to Portland)
Contact:
Amy Adams, Beach Nesting Birds Team, Birdlife Australia
---