Theme: Native Bees, Wasps and Ants
Time to think about the small things in life and gain a better understanding of these insects, their role and conservation status.
Thursday 4th April 2019
9.45 am (sharp) - finish 12.15 pm
Registration required (this is a free event).
Register to attend a venue in person.
Register to join in via Zoom video conferencing.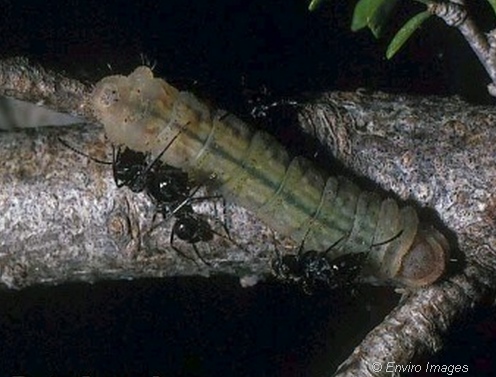 Notoncus sp. of ants. are essential in attending to the larval phase of the Eltham Copper Butterly.
Agenda
1. Introductions (9.45 am sharp)
This seminar will be chaired by Glen Johnson from Wodonga DELWP.
2. Topics & Guest speakers (10.00 am)
'Hymenoptera of Australia'
Dr Ken Walker, Museums Victoria
Ken will introduce the Order Hymenoptera (bees, wasps and ants), provide an overview of their role, highlight the fascinating world of social insects, discuss threats to their security; and how we can better understand these insects through citizen science.
'Native Australian Bees'
Dr Ken Walker, Museums Victoria
To some, the introduced European Honeybee is the only bee they know. Ken will provide fascinating insights into our unique Australian bees as well as the introduction of honey bees.
'Why you should love wasps: An introduction to Australian native parasitoid wasps'
Erinn Fagan-Jeffries, PhD student, University of Adelaide
Erinn will tell us about common groups of wasps in our environment and her research on wasps that parasitise caterpillars. Learn also about how new technologies are helping with the discovery of species.
'Ants as Environmental Ambassadors'
Peter Muller
Peter is a naturalist passionate about getting people interested in 'common bushland ants' and how this helps communities to see value in nature.
'The Wild Pollinator Count'
Karen Retra, co-founder of The Wild Pollinator Count, environmental educator and keen citizen scientist
Karen is a co-founder of the Wild Pollinator Count, a national citizen science project that aims to raise awareness of native pollinator insects. Learn how to get involved.
3. Open discussion session (12.00pm - 12.15pm)
This will be an open discussion and question segment. Participants at all venues are welcome to raise issues relating to the video conference theme or other threatened species issues.
A short allocation of time will also be devoted to other items of interest which people may wish to raise.
Attending in person ? List of SWIFFT sminar venues (please advise the venue host of your attendance).
Register to attend a location in person
Register to join in via Zoom video conferencing
Please note: if you are intending to view via zoom the connection link will be e-mailed to you once you have registered.