Giant Gippsland Earthworm
Giant Gippsland Earthworm

Megascolides australis
Kingdom:
Animalia
Phylum:
Annelida
Class:

Oligochaeta

Order:

Haplotaxida

Family:
Megascolecidae
Status
World:
Endangered (IUCN 2014)
Australia:
Endangered (EPBC Act)
Victoria:
Endangered (DSE 2009)
FFG:
Listed
Profiles
Victoria:
FFG Action Statement No. 77
Australia:
Species Profile & Threats Database
Web
Giant Gippsland Earthworm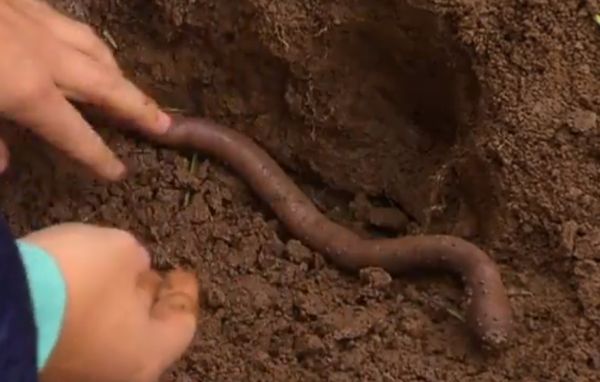 The Giant Gippsland Earthworm Megascolides australis is only found in small areas of South and West Gippsland, Victoria. It is one of the largest earthworms in the world, often exceeding one metre in length. It is rarely seen due to its underground life cycle but sometimes can be heard as it moves beneath the ground.
This species requires careful conservation measures as it is difficult to study and can easily be damaged due to handling. It is also a species which dies in captivity and is not suitable for captive breeding, making it even more important to retain existing populations.

As development of land continues in West Gippsland special care is required to ensure the Giant Gippsland Earthworm continues to survive.
The Giant Gippsland Earthworm has a purple-coloured head region and pinkish-grey body. It has a diameter of up to 2 cm and usually a body length of 80 to 150 cm although specimens of up to 2 metres have been recorded.
Distribution
The Giant Gippsland Earthworm range is confined to an area of approximate 400 square kilometres in West Gippsland, Victoria but the viable habitat areas are very small and often fragmented.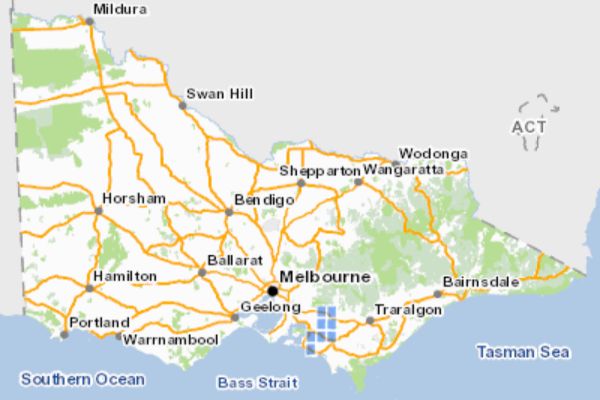 Most records of Giant Gippsland Earthworm occur on private land, although it is known to occur on some areas of public land e.g. Mt Worth State Park. It is no longer is found in many areas where it was previously recorded and numbers have declined in many of the remaining populations.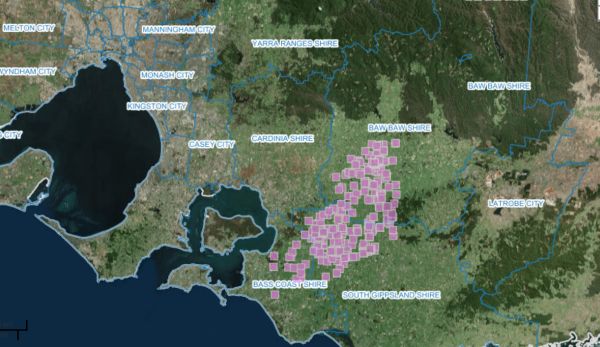 Ecology & Habitat
Suitable habitat for the species is restricted to very small areas; generally, in moist, blue-grey clay soils on flats and above the flood level near the banks of streams or along soaks and watercourses on south or west-facing slopes.
Although the Giant Gippsland Earthworm prefers moist soils it is not commonly found on frontages of larger waterways, it cannot survive in water-logged soils or areas subject to seasonal flooding but may be found in small pockets of clay soils in the upper terraces.
At present there is no definitive life span age but it is thought to live beyond 10 years possibly to 20 years.
Feeding
The Giant Gippsland Earthworm spends most of its life within the top 1.5-metres of soil, feeding on roots and soil organic matter.
Movement
This species has limited movement within discrete sites and does not move large distances to new areas. Due to limited geographic movement it is thought most populations are discrete evolving as distinct genetic entities (Van Praagh & Yen 2010).
Breeding
The breeding season is spring and early summer. Mating involves two individuals for fertilisation to occur (each worm has both male and female sex organs). Only a single egg capsule is produced each season, laid inside the burrow. Eggs are (5-9 cm) and take over 12 months to hatch.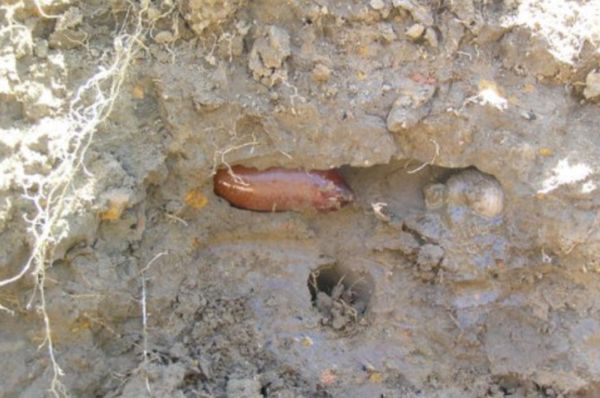 Population Status
There are no estimates of overall population due to the difficulties in surveying this species. There are indications that drought has impacted on some populations which have suffered decline in recent years (Van Praagh & Yen 2010).
Threats
Disturbance & handling
The Giant Gippsland Earthworm lacks the ability to recover from even slight wounds. They should never be dug out for curiosity sake or held upwards as it will kill them.
Other soil disturbance activities, e.g. road-making, dam building, deep ripping and trenching.
Changes to hydrology
Changes to surface water and underground spring water can alter habitat conditions.
Pollution
Chemicals and dispersal of effluent which can seep into soils and groundwater.
Climate change
Extended drying out of moist habitats, is known to impact on populations, there could also be impacts from sever flash flooding.
Conservation & Management
Key Local Government Areas for Giant Gippsland Earthworm conservation on pivate land.
Baw Baw Shire
The Baw Baw Shire recognises the conservation of Giant Gippsland Earthworm (GGE) in its Municipal Strategic Statement which forms part of the Baw Baw Shire Planning Scheme. The GGE is specifically protected in an Environmental Significance Overlay ESO4 implemented in 2014, aimed to protect and maintain populations and habitat of Giant Gippsland Earthworm. To ensure that the type, density, design and layout of works or development avoids and/or minimises adverse impacts on individuals, colonies or the habitat requirements of the Giant Gippsland Earthworm.
The ESO4 overlay includes mapping (available through planning schemes online mapping), schedule to the overlay and a Reference Document. There are also planning requirements regarding this species within the Warragul and Drouin Precinct Structure Plans.
Giant Gippsland Earthworm, Baw Baw Shire Habitat Overlay (ESO4)
Giant Gippsland Earthworm Reference Document June 2011 prepared by Greg Hollis, Environmental Scientist, Baw Baw Shire Council.
Contact: Greg Hollis, Baw Baw Shire
South Gippsland Shire
Planning Scheme Amendment C107 identifies Giant Gippsland Earthworm (GGE) habitat within South Gippsland Shire in Environmental Significance Overlay (ESO9) which provides protection to the remaining colonies and informing development proposals.
Giant Gippsland Earthworm, South Gippsland Shire Habitat Overlay (ESO 9)
Parks Victoria
There is a known population within a small section of Mt Worth State Park which is managed by Parks Victoria.
National Recovery Plan
This document was published in 2010 and sets out a five-year program to improve knowledge of the species distribution and habitat requirements and implement recovery measures needed for long-term conservation of Giant Gippsland Earthworm.
National Recovery Plan for the Giant Gippsland Earthworm Megascolides australis (pdf)
Projects & Partnerships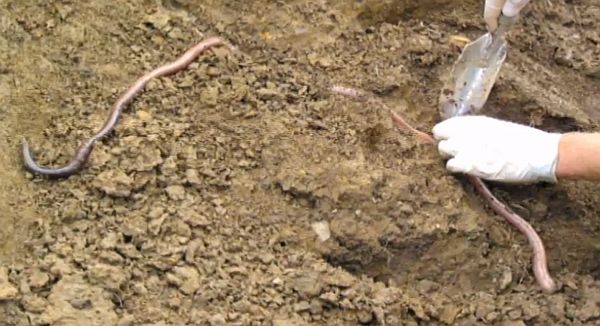 Building Capacity to Manage Earthworm Habitat on Farms project
This was an 18 month long project, supported by the South Gippsland Landcare Network, DEPI, Dairy Australia and Melbourne Water to help landholders understand more about how they can conserve the GGE on farms. Project leader Beverley Van Praagh has been studying the Giant Gippsland Earthworm for many years and has prepared a web site specifically for this species.
The Triholm Landcare Group continues to undertake a lead role in Building capability to Manage Giant Gippsland Earthworm Habitat on farms via Field Days, habitat management.
Giant Gippsland Earthworm web site.
Friends of Mt Worth State Park
This group is interested in the Giant Gippsland Earthworm and intends to undertake monitoring within the park.
Friends of Mt Worth State Park
References & Links
IUCN (2014) Blakemore, R. 2014. Megascolides australis. The IUCN Red List of Threatened Species 2014: Downloaded on 27 May 2019.
Van Praagh, B.D. (1991) Giant Gippsland Earthworm — Nature's Plough. Land for Wildlife Note No. 11. Department of Conservation and Environment: Melbourne
Van Praagh, B.D. (1992) The biology and conservation of the Giant Gippsland Earthworm 8 (Megascolides australis McCoy, 1878). Soil Biol. Biochem. 24(12): 1363–7.
Van Praagh, B. & A. Yen (2010). National Recovery Plan for the Giant Gippsland Earthworm Megascolides australis. Department of Sustainability and Environment, East Melbourne. Available from: In effect under the EPBC Act from 16-Dec-2010.
VBA (2019) Victorian Biodiversity Atlas, Department of Environment, Land, Water & Planning, Victoria 2019.
VVB (2019) Visualising Victoria's Biodiversity.
More Information
Giant Gippsland Earthworm web site