Latham's Snipe

Gallinago hardwickii
Kingdom:
Animalia
Phylum:
Chordata
Class:
Aves
Order:
Charadriiformes
Family:
Scolopacidae
Status
World:
Least concern (IUCN)
Australia:
Least concern (Garnett, S.T. & G.M. Crowley (2000)
Australia:
Listed Migratory species (EPBC Act 1999)
Australia:
Listed under

JAMBA, CAMBA, ROKAMBA, Bonn Convention.

Victoria:
Near threatened (DEPI 2013)
FFG:
Nominated for listing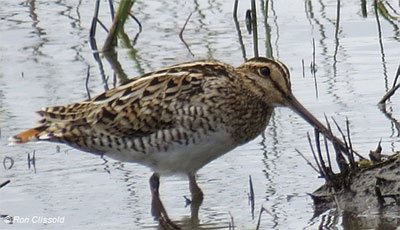 Latham's Snipe Gallinago hardwickii, also known as Japanese Snipe, is a medium-sized (150-200g) migratory shorebird which migrates between the northern and southern hemispheres.
Distribution in Victoria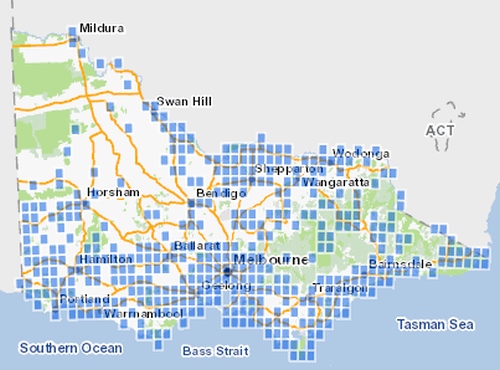 All records of Latham's Snipe in Victoria. Source: VBA 2016
Ecology & Habitat
Latham's Snipe is a shy, secretive bird that is generally widely dispersed in low numbers across wetland and grassland areas. They differ to other shorebird species in preferring open freshwater or brackish wetlands with cover nearby, particularly areas of wet tussock grassland and other dense ground vegetation.
During the day snipe prefer to roost in grass and weeds in close proximity to water and at night they disperse to feed in nearby wet paddocks, ditches and other open flooded areas. The distance they move nightly to feed is unknown; however, shorebirds tend to roost in close proximity to their feeding habitats in order to reduce the amount of energy used in nightly transit.
The distance between snipe roosting and optimal feeding habitats is likely to be minimal in order to reduce flight times and so, conserve energy.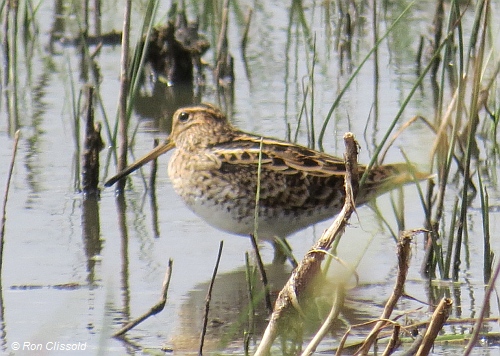 Migration
Latham's Snipe breeds in Japan and south-east Siberia. Most of the population spends its non-breeding season in eastern Australia from August to February, with the largest concentrations occurring in south-eastern Australia.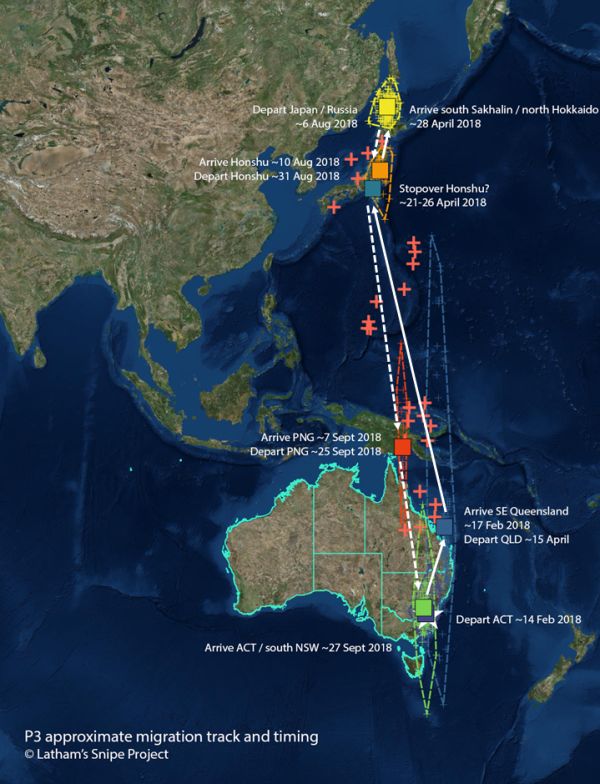 Migration of Latham's Snipe (P3) in 2018. Source: Latham's Snipe Project.
Threats
In Australia, Latham's Snipe were hunted until the late 70s – early 80s, when hunting bans were introduced.
Latham's snipe are declining in Japan and are also thought to be declining in Australia.
The major current threats to snipe in both Australia and Japan;
Loss of habitat (particularly wetlands).
Loss of swamps and paddocks for feeding, meadowlands for breeding, particularly on private land.
Development in rural and urban areas which deplete habitat or in such proximity to render habitat unusable.
Management
Latham's Snipe Project - This project is using a combination of animal tracking technology, field observations and systematic surveys to determine habitat preferences and movement patterns of Latham's Snipe, both in Australia, Japan and on migration. Project activity is focusing on populations in south-west Victoria, which is the species' stronghold in Australia but has also lost over 70% of its wetlands in the last 100 years.
Belmont Common (near Geelong).
Powling Street wetlands (near Port Fairy). See Latham's Snipe project.
Winton Wetlands (near Benalla) - surveys are undertaken to determine the numbers of Latham's Snipe in the area.
Wetland restoration projects across Victoria help to increase potential habitat.
Latham's Snipe feeding in south-west Victoria woody wetland project
Latham's Snipe feeding in south-west Victoria woody wetland. Part of the Basalt to Bay Landcare Network Inc. project using remote camera to detect Latham's Snipe at St Helens Reserve, near Warranambool.
References & Links
BirdLife International. 2012. Gallinago hardwickii. The IUCN Red List of Threatened Species 2012: e.T22693078A38767826. Downloaded on 27 April 2016.
Department of the Environment; Latham's Snipe - Listed Migratory Species
Department of the Environment (2016). Gallinago hardwickii in Species Profile and Threats Database, Department of the Environment, Canberra.
Garnett, S.T. & G.M. Crowley (2000). The Action Plan for Australian Birds 2000. [Online]. Canberra, ACT: Environment Australia and Birds Australia. Also Latham's Snipe Summary pdf
VBA 2016. Victorian Biodiversity Atlas, Department of Environment, Land, Water & Planning, Victoria.
See also: Latham's Snipe Project