Environmental Volunteer & Agency Network (Central West Victoria)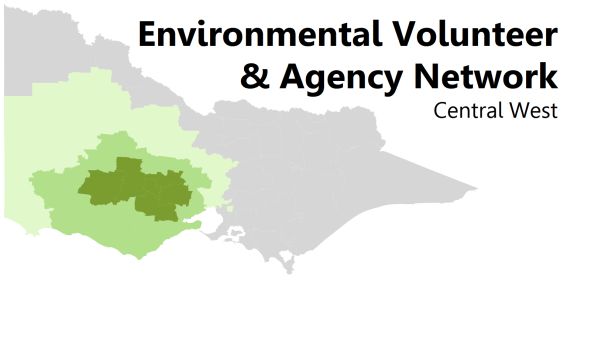 The purpose of the Environmental Volunteers & Agency Network (Central West) is to sustainably enable stronger connections between environmental volunteers, groups, agencies, and the community, to achieve our shared goal of caring for nature.
EVAN is a place-based network that aims to facilitate meaningful, coordinated, reciprocal engagement between land & water management agencies and environmental volunteering groups, as well as assisting with connection to the wider community. EVAN strives to be inclusive of all groups within the region, regardless of their size, status or resources.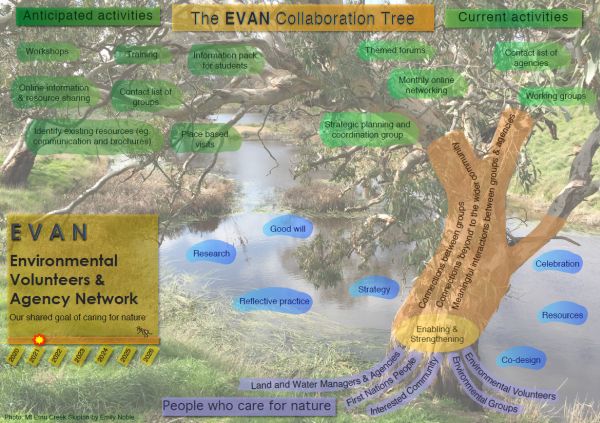 Connect with us by emailing: evancentralwest@gmail.com
Recent events
Enfield Grevillea Fire Response Project update
Recording of EVAN workshop held on 1 December 2021.
Learn about the Enfield Grevillea (Grevillea bedggoodiana) which is endemic to Enfield State Park and surrounding forested areas about 30km south of Ballarat and DELWP's initiative to better understand a unique species improve its management. Also, hear how this novel research design might be applied to other at risk and threatened vegetation communities and how as volunteers, we can contribute, participate and even be involved.
Past events
EVAN Evaluation Workshop
Held on 8th September 2021 - this event was not recorded.
Meet the Land Manager Forum
Held on Monday 19th April 2021 - see recordings below
'Meet the Land Manager' is EVAN's first annual forum series. As a local environmental volunteer, it can be difficult to know what agency's plans are for the year, and how you can align your group's projects with their funding. Here at EVAN, we believe wholeheartedly that caring for our Central West landscapes involve bringing together community, volunteers and land and water managers to tackle our toughest environmental issues! Hosted online and during all of our lunch breaks, this forum is spread across four days. Jam-packed with speakers ranging from Catchment Management Authorities, state government and local councils, these sessions will fill you with all you need to know about their annual priorities, planning cycles, and how to best communicate with these agencies and get involved with your feedback!
Day 1: Monday 19th April 2021
Introduction: Cherie Draper & Laura Mumaw
Deidre Murphy (Corangamite CMA) Regional Citizen Science
Deirdre Andrews (Ararat) Local government priorities
Leanne Riggs (Parks Vic) Volunteering Innovation Fund grant details
Day 2: Tuesday 20th April 2021
Introduction: Cherie Draper
Vera Lubczenko (DELWP) Statewide volunteering
Alison Farrar (DELWP Barwon South West) Barwon SW Climate Adaptation Strategy
Trevor Prowd (Geelong City) Local government priorities
Dora Novak (Colac Otway Shire) Local government priorities
Day 3: Wednesday 21st April 2021
Introduction: Laura Mumaw
Brian Bainbridge (Hepburn) Local government priorities
David Collins (Golden Plains) Local government priorities
Day 4: Thursday 21st April 2021
Introduction: Cherie Draper
Mel Douglas (DELWP Grampians) Grampians Climate Adaptation Strategy
Hannah Auld (Parks Vic) Gariwerd volunteering
Nathan MacDonald (DELWP Grampians) Biodiversity response planning
Roland Herbert (Corangamite Shire) Local government priorities
Caring for Nature Community College
"An opportunity for learning and growing together"
This forum is a series of experienced environmental volunteers presenting across Central West Victoria, sharing their lessons in a virtual "classroom" environment. The 'Caring for Nature Community College' is a place to learn how to better value, engage and celebrate environmental volunteering.
The forum aimed to:
Create a shared learning space for environmental volunteers, agencies and others to focus on education and solutions
Promote learning from each other and growing together through sharing experiences
Improve information and communication flow between agencies and volunteers
Provide flexible learning so you can attend when it suits you
Generate conversation and insight about how learning can be applied in your organisation/group
20th July, 2021
Nicole Eliot (Organisation: BREAZE) - How to successfully operate a Tool Library
Cameron Steele (Organisation: People for A Living Moorabool) - Advocating for better environmental flows for the Moorabool River.
David Bruce (Organisation: Friends of Inverleigh Conservation Reserve) Ineffectiveness of controlled burns and grooming as an alternative.
22nd July, 2021
Bob Hartmann (Organisation: Friends of Canadian Corridor) - Strategies to achieve environmental change and advocacy
Felicity Spear (Organisation: Batesford, Fyansford, Stonehaven Landcare Group) - Lesson: Peri-urban volunteering – the disconnect between the environment and urban development
Laura Mumaw (Organisation: Gardens for Wildlife Victoria) - Community-Council collaboration for urban biodiversity stewardship
25th July, 2021
Adrik Wright (Organisation: Ballarat Environment Network) - Motivators for youth volunteering
Stuart McCallum (Organisation: Friends of Bannockburn Bush) - Community value change regarding Bannockburn Reserve
Jenny Ryle (Organisation: Napoleons Enfield Landcare Group) Lesson: Using social media for community connection