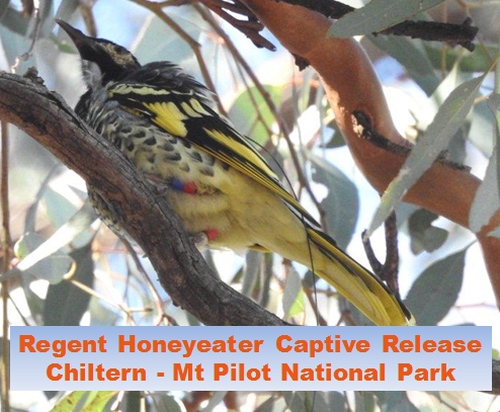 An update on the Regent Honeyeater Captive release program in the box ironbark vegetation within the Chiltern-Mt Pilot National Park
Update #6 (Day 28 post release)
Update #7 (Day 38 post release)
Update #8 (Day 49 post release)
Update #9 (Day 62 post release)
Update #10 (Day 73 post release)
Update #11 (Day 76 post release)
Update #12 (Day 90 post release)
Update #13 (Day 116 post release) - August 2015
Update #14 (Day 151 post release) - September 2015
Update #15 (Day 168 post release) - September 2015
Update #16 (Day 186 post release) - October 2015
Update #17 (Day 219 post release) - November 2015
Update #18 (Day 360 post release) - April 2016
Update # 19 (I year 1 month post release) - May 2016
A major component of the recovery effort is to implement a coordinated program of habitat protection and enhancement across the entire range of the species. A captive breeding and release program commenced in 1995 with the intention of being able to reintroduce Regent Honeyeaters into suitable habitat with the view of reinvigorating depleted populations though natural breeding in the wild.
Previous releases
The first releases of captive bred Regent Honeyeaters into the wild took place in May 2008 with 27 birds being released. In May 2010 a further release of 44 captive bred Regent Honeyeaters was undertaken in the Chiltern-Mt Pilot National Park. Twenty-three of these birds were fitted with transmitters and were tracked until batteries ran out in mid-July 2010.
On the 17th April 2013 a release of 38 captive bred birds which were reared at Sydney's Taronga Zoo was undertaken at Magenta Mine on the northern side of the Chiltern-Mt Pilot National Park. Twenty Five birds were fitted with transmitters and were monitored by DEPI staff and volunteers for the length of the battery life (approx 11 weeks).
All released birds have four uniquely colour coded leg bands that enable individual bird identification that can be linked back to Zoo breeding and genetics records. If observations of this species are being made and it is possible to see the leg bands please include this information in reports as it is extremely valuable to be able to identify individual birds.
The captive breeding and release project is a partnership between Birdlife Australia, DEPI, Parks Victoria and Taronga Zoo (and affiliated institutions) on behalf of the national Regent Honeyeater Recovery Team. Friends of Chiltern-Mt Pilot National Park, Bird observers and Landcare also play an important role in monitoring Regent Honeyeaters.
Monitoring has found nearly an 80% survival 15 weeks post release. This indicates good chances of ongoing survival with landscape scale movements detected. Five of the 2010 release birds were confirmed alive in Chiltern in 2013. There have been nine breeding attempts from five pairs of captive released birds over the later part of the project period. In December 2013 a 10th and successful breeding took place.
In early November a pair traversed over 50km from Chiltern to Hamilton Park, near Glenrowan with 2 new chicks detected.
2015 Captive releases
In April 2015, 77 Regent Honeyeaters were released into the Park with 39 birds fitted with radio transmitters. All bar one of the remaining 'leg bands only' Regents (a mysterious female wearing Black over Black) have been recorded. There is an intensive 7 day/week monitoring regime in place to monitor the released birds.
Regent Map update - which reflects the progressive movements (and flowering resource activity) up to 21 April.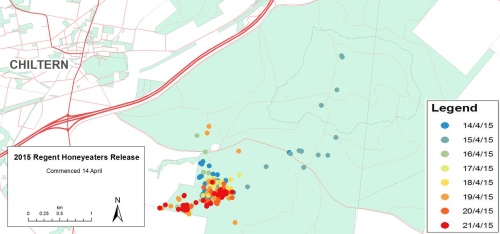 Highlights from the 2015 Regent Honeyeater Captive Release - Update #6 (Day 28 post release)
It's turned cold - within one week we've retreated from max. temps around 23 & 24 to an average of around 15 degrees for the past week. And wet and windy too (we had one mandatory 'helmets on' day)
35 Regents still with working transmitters - all recorded at least once in the last week (with an average 97% daily)
39 of 41 released Regents now with bands only recorded over the week (on average 22 per day - once again a massive effort given we are reliant on nailing these birds without radio tracking).
One wild female Regent (the ex Corowa banded bird) was observed a week ago - with captive release birds.
Swift Parrots are still in the Park (a group of three observed recently)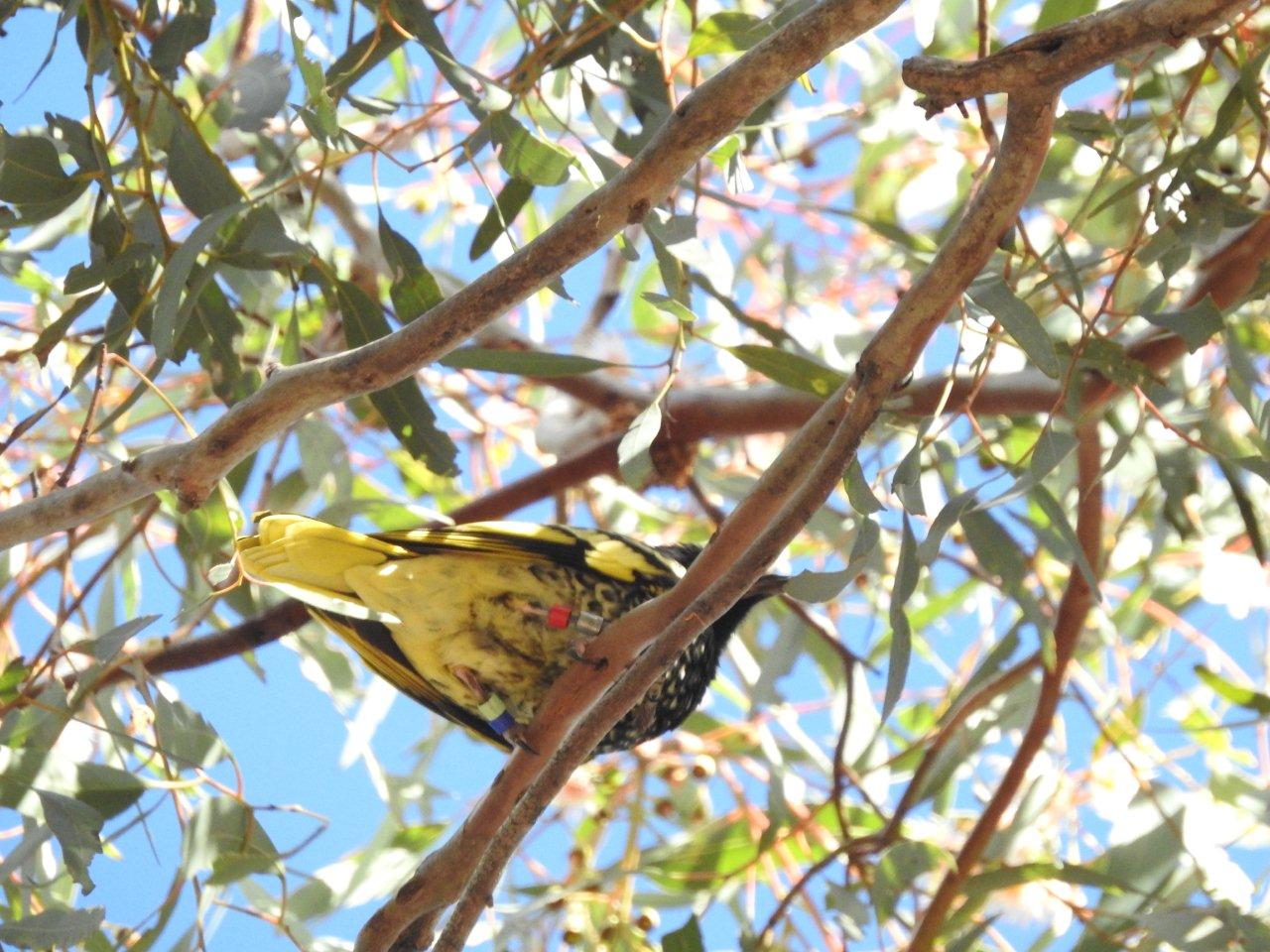 Image: Glen Johnson, DELWP
Focus on Flowering
While insects and seasonally lerp and other flowering plants are important resources for Regents (and other many other nectivorous bird species) - flowering eucalypts are usually the key.
Mugga Ironbark is typically the species of choice for Regents in this district (at this time of the year), and while this years flowering is only patchy, there's sufficient to keep the birds interested for a while yet
White Box is in heavy bud & has just commenced flowering in some areas and the prospects are it will be the best flowering in the Park for years - we expect this species will be the new Regent focus in coming months
Hybrid Box/Ironbark: often provides a critical flowering link between the two species above (looks OK in some areas currently)
Grey Box - still plenty of flowering to come although this species is sometimes more important for its associated insect activity than nectar resource (for Regents at least)
Regent Map update - which reflects the progressive movements (and flowering resource activity) up to 6th May.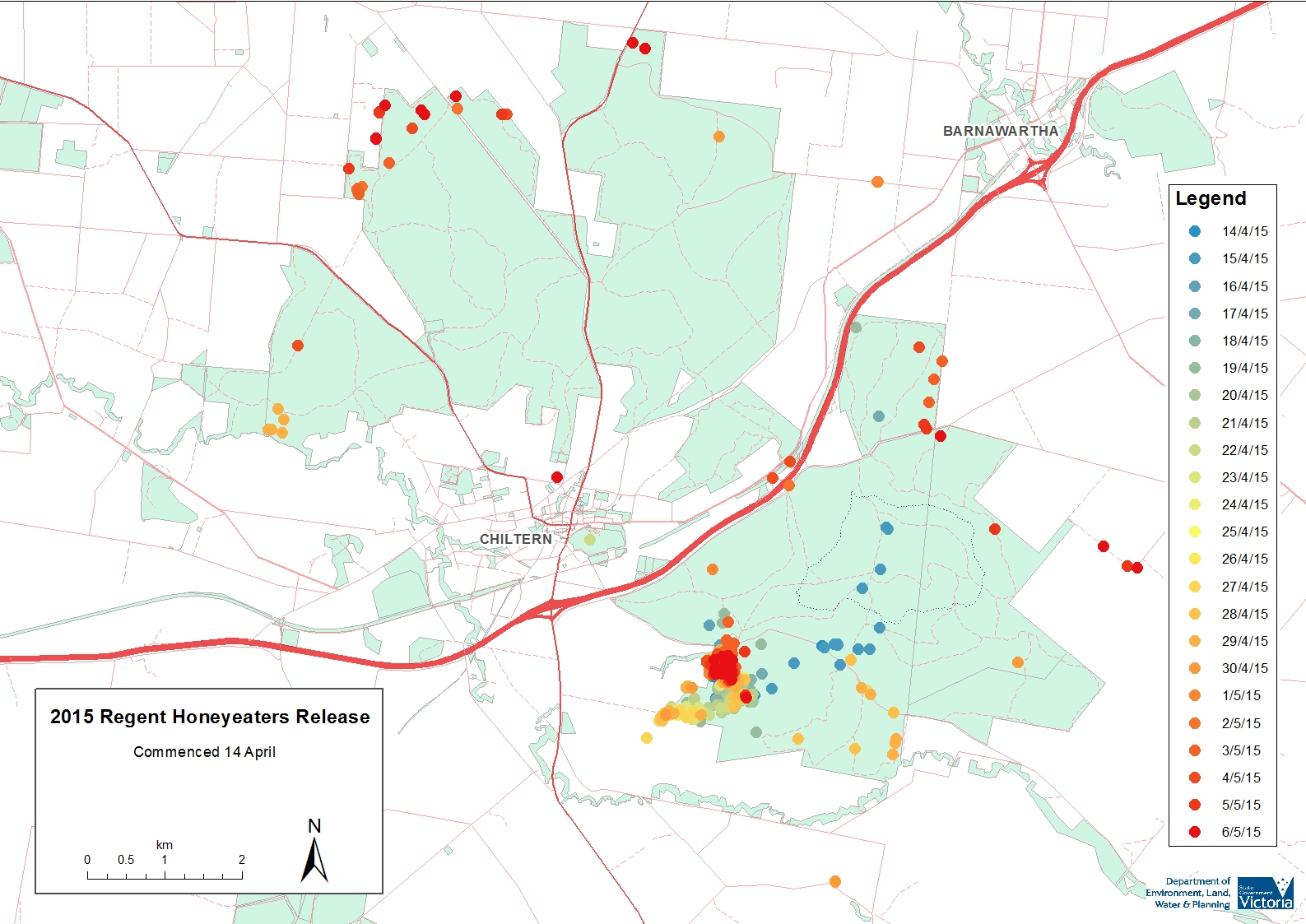 The maps demonstrates that it's still not unusual to see a loose mob of 15-20 Regents in one location (near the release site) - what a great sight! However, increasingly there's break a ways 6km to the north, and frequent examples of birds traversing this distance in quick time e.g. recorded near the release site in the morning only to be positively identified in the afternoon in the north (and back again later). While most birds are in association with several Regents - there's one or two apparent 'loners' who are foraging in new frontiers without other Regent company. But most love to be in the 40+ group still in the main area.

Still plenty of opportunity to help monitoring in Chiltern
We are maintaining a 6 day/week monitoring regime commencing daily at 8.30am (no Saturday's) - and would love your help.
With birds on the move, there's heaps of car based scanning opportunity to go with the usual foot based searching.
Pls contact Liz Wemyss Elizabeth.Wemyss@delwp.vic.gov.au to register and assist with the monitoring program. Remember to bring your bino's, lunch, drinks and warm clothing.
Highlights from the 2015 Regent Honeyeater Captive Release - Update #7 (Day 38 post release)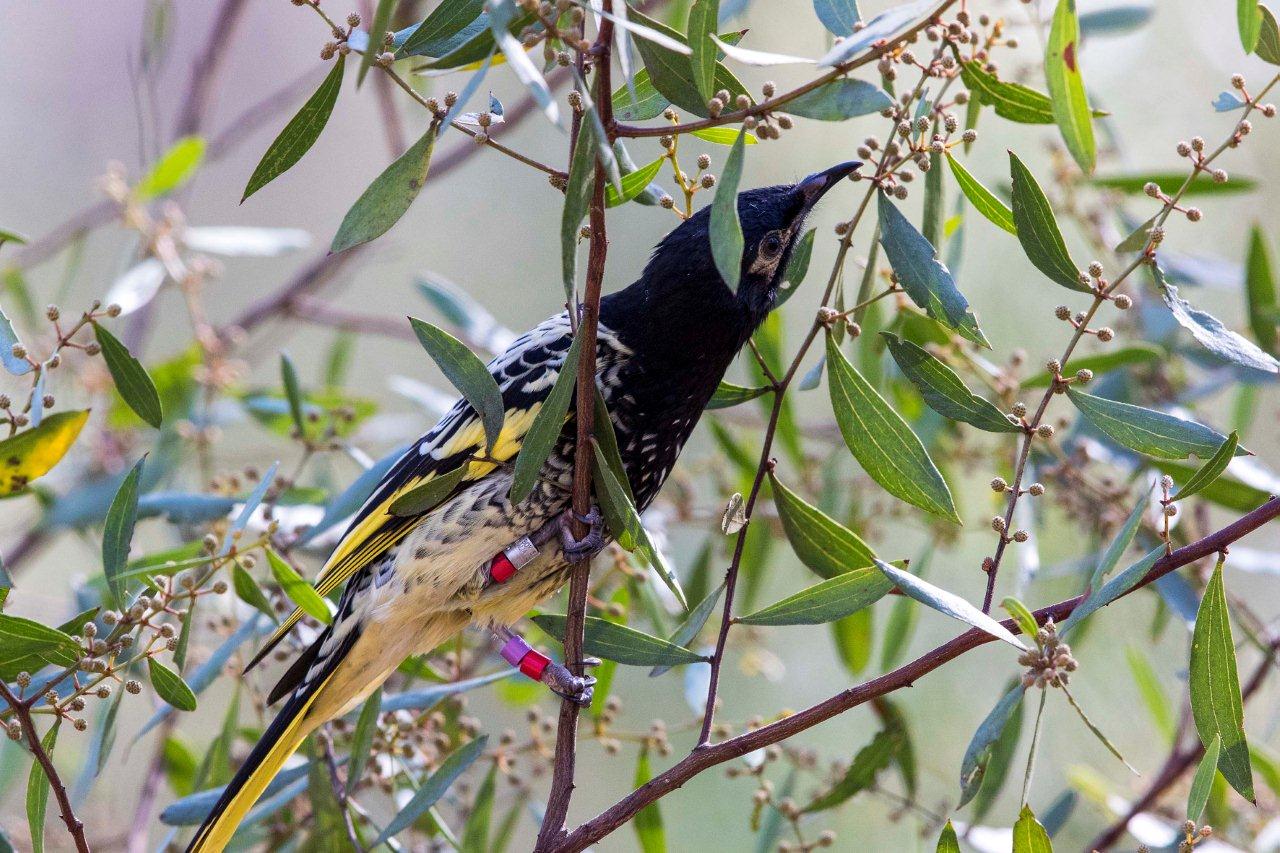 Mauve and Red banded bird - Image: Neville Bartlett
As of 20 May there were 37 Regents with working transmitters and 38 Regents with leg bands only.
Losses: x1 (the 2nd in total) confirmed Regent death; x1 Transmitter battery failed prematurely; and x1 harness/working transmitter dropped off prematurely.
No wild Regents recorded this week.
A Regent Honeyeater released in 2013 was identified from leg bands - two years in the wild post release.
A female Regent Honeyeater from the 2008 release has been identified from leg bands. This bird had not been seen since release and is now 7.5 years old. Who knows how many times she's successfully bred in the years since? And with Regents known to survive till around 12 years in the wild - there's potentially a few more in her yet!
Some Regents were re-captured whilst roosting at night (x7 band only and x2 transmitter birds). All birds were re-weighed (enabling comparisons against pre-release weights) and given a general health check. All birds appeared in good condition including transmitter wearing birds showing no adverse effects from their back pack harness.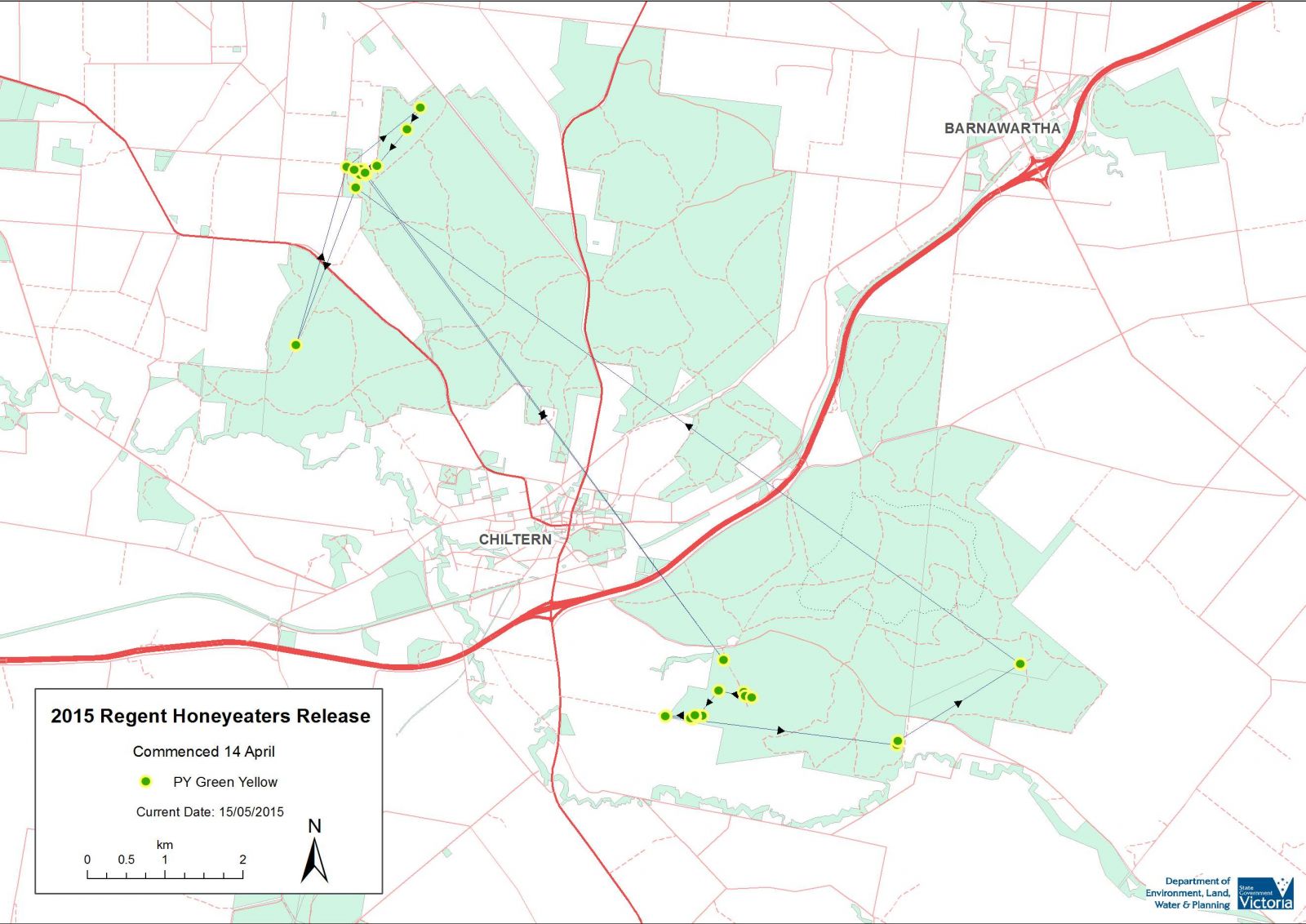 Regent Map update. Source: DELWP. This reflects the progressive foraging movements of a Green Yellow banded bird up to 14th May. As the map illustrates there's an increasing trend for many Regents to venture to the northern extremes of the park (and often back and forth).
Regent eating lerp. Image: Neville Bartlett
Lerp (the sugary protective exude/case produced by psyllids - the tiny sap-sucking nymph stage of a small insect) seasonally provides an important food resource for Regents (Swift Parrots and many other nectivorous and small foliage birds). Neville Bartlett's pics beautifully demonstrate a Regents capacity to devour a leaf full of lerp Note: the tiny psyllid seems to survive the feast in these pics:
Volunteers wanted!
We're once again brim full of birds to radio track, however, volunteer numbers have somewhat dropped off .... so we'd love your assistance (and it would be great to see some of our past regulars again). There's plenty of opportunity to team up with more experience people to learn how to track (or provide that experience to others), or you can help scribe sighting records or help with leg band binocular based sighting confirmations.
We are maintaining a 6 day/week monitoring regime commencing daily at 8.30am (no Saturday's).

Please contact Liz Wemyss Elizabeth.Wemyss@delwp.vic.gov.au to register and assist with the monitoring program. Remember to bring your bino's, lunch, drinks and warm clothing.
Highlights from the 2015 Regent Honeyeater Captive Release - Update #8 (Day 49 post release)
As of 28 May, 32 Regents now with working transmitters - all recorded daily (five less than last update due to x2 fatalities (likely goshawk kills); x2 harness breaks - transmitters dropped but birds alive; and x1 bird not seen since 14th May (it could still be alive and just flown well beyond monitoring zone could be dead but we have not found a working transmitter on the ground as would normally be the case)
40 Regents (with leg bands only). Only two of these not recorded in the last week (and around 20 of these recorded daily)
regular sightings of the 2013 Black Blue Regent (reported last update)
x1 (possibly two) wild Regents recorded in Wodonga on the 28th May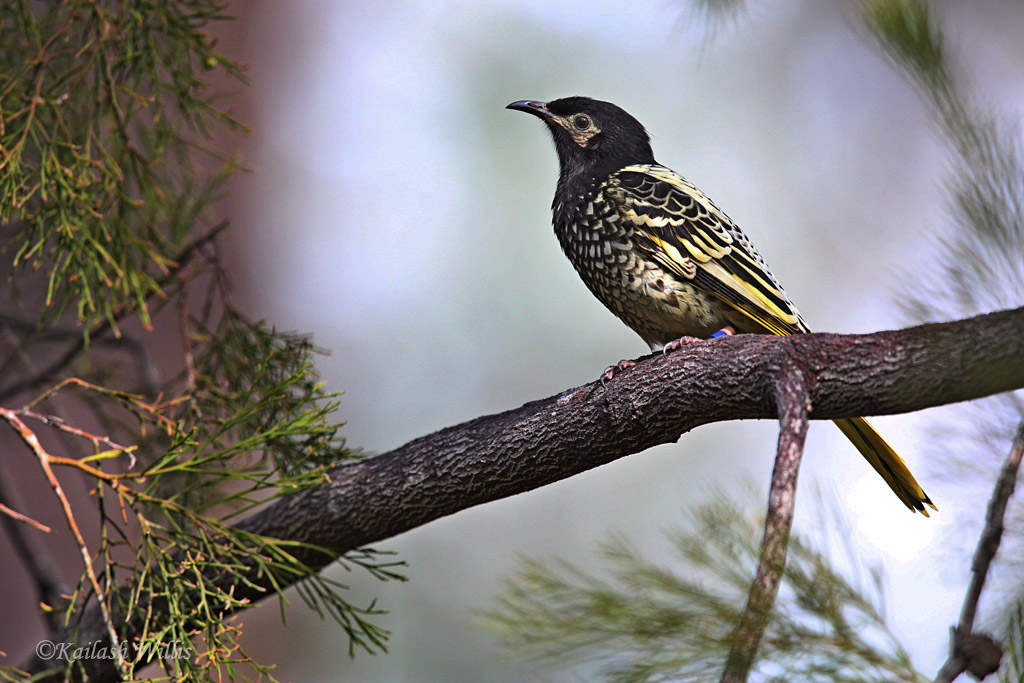 Female Pink Blue - one of many birds that have been regularly recorded within 1-2 km of the release site. Image: Kailash Willis.
Regent Video
A slightly more in depth version of the Regent video that includes the Noisy Miner control program and additional volunteers is now available. Source:DELWP.


Radio National Science Show - Rescuing the Regent Honeyeater
Matthew Crawford's great Regent release story recently aired on Radio National. Listen now
Noisy Miner Program
Additional Noisy Miner control is being undertaken in the north east edge of the Park.
This work forms part of the research being undertaken by Colleen Fraser, La Trobe University Honours student to assess the impact of the Noisy Miner on native bird populations in the box-ironbark forests of Chiltern-Mt Pilot NP Watch a 28th May Prime News clip.: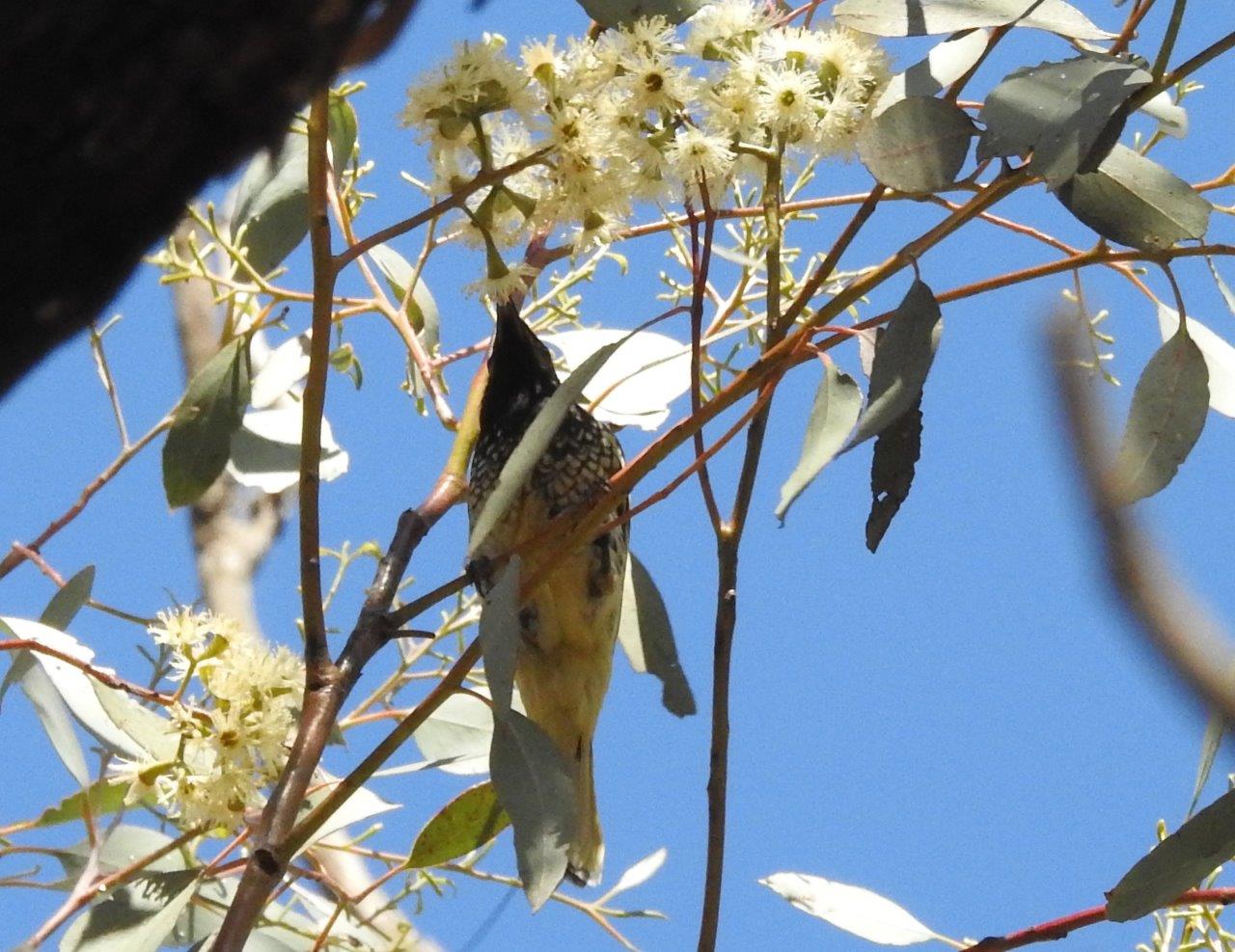 White Box flowers provide an important food source for Regent Honeyeaters during May & June. Image: Glen Johnson.
Highlights from the 2015 Regent Honeyeater Captive Release - Update #9 (Day 62 post release)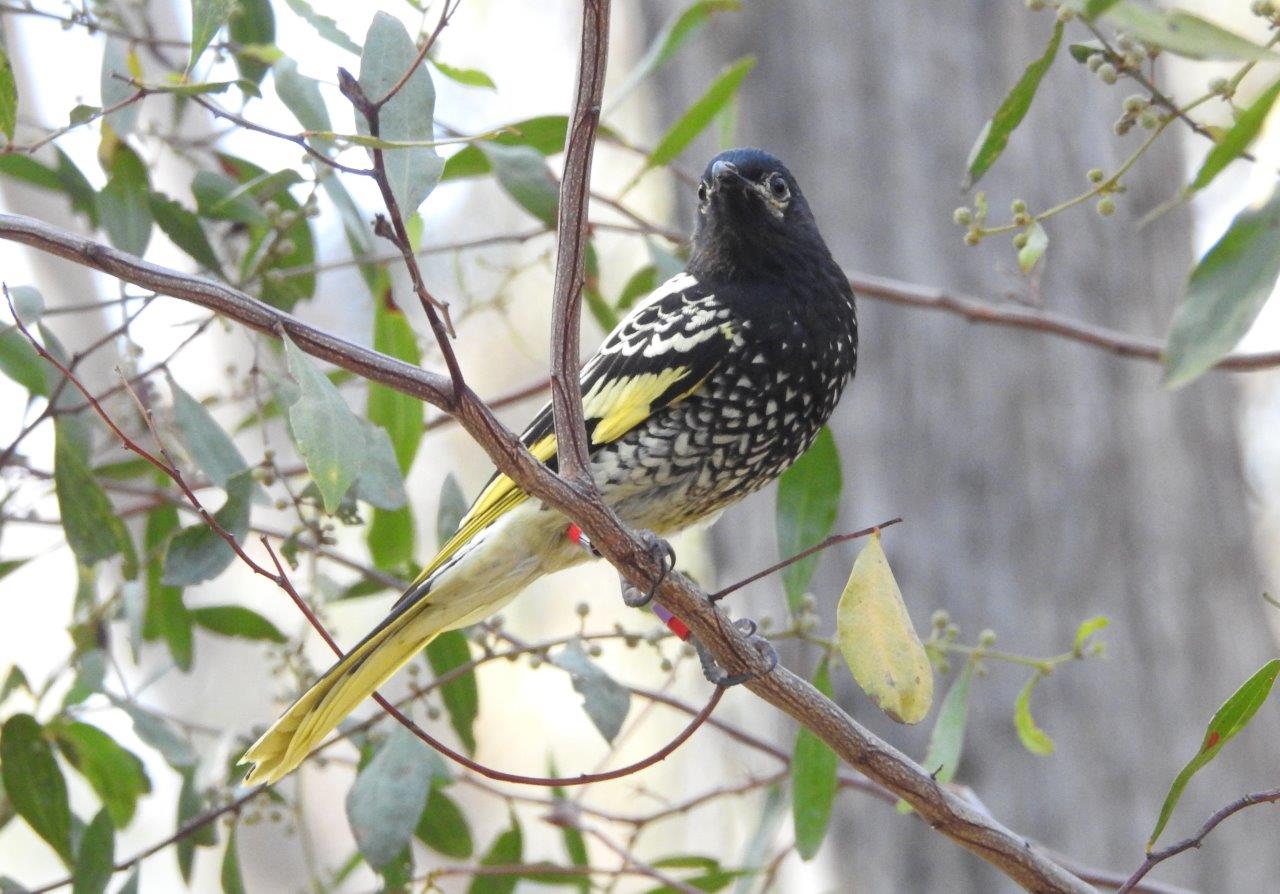 Regent Honeyeater in Varnish Wattle. Image: Glen Johnson
25 Regents now with working transmitters - all recorded daily (the reduction from last update due to additional harness breaks with transmitters dropped and or transmitter battery failure).

47 Regents (with leg bands only) - 39 of these recorded in the last week (and around 25 recorded daily) including a couple that had not been seen for 14 & 10 days respectively.

regular sightings of the 2013 Black Blue Regent

one wild (banded) Regent sighted again (the same female Regent banded in Corowa in Dec 2014 that successfully reared two birds)

occasional Swift Parrot observations.

Regent movement map (reflecting over 3,500 GPS points collected to date) since commencment 14 April 2015. There is increasing movement of birds between the two core zones, including recorded movement back and forth in the one day (a 15 km straight line 'round' trip),
Tracking of individual Regent Honeyeaters has found some stay in a relatively small area e.g. 250 ha. whereas other birds (e.g. bird identified as YP indicated on map above) has covered more than 10,000 ha to date.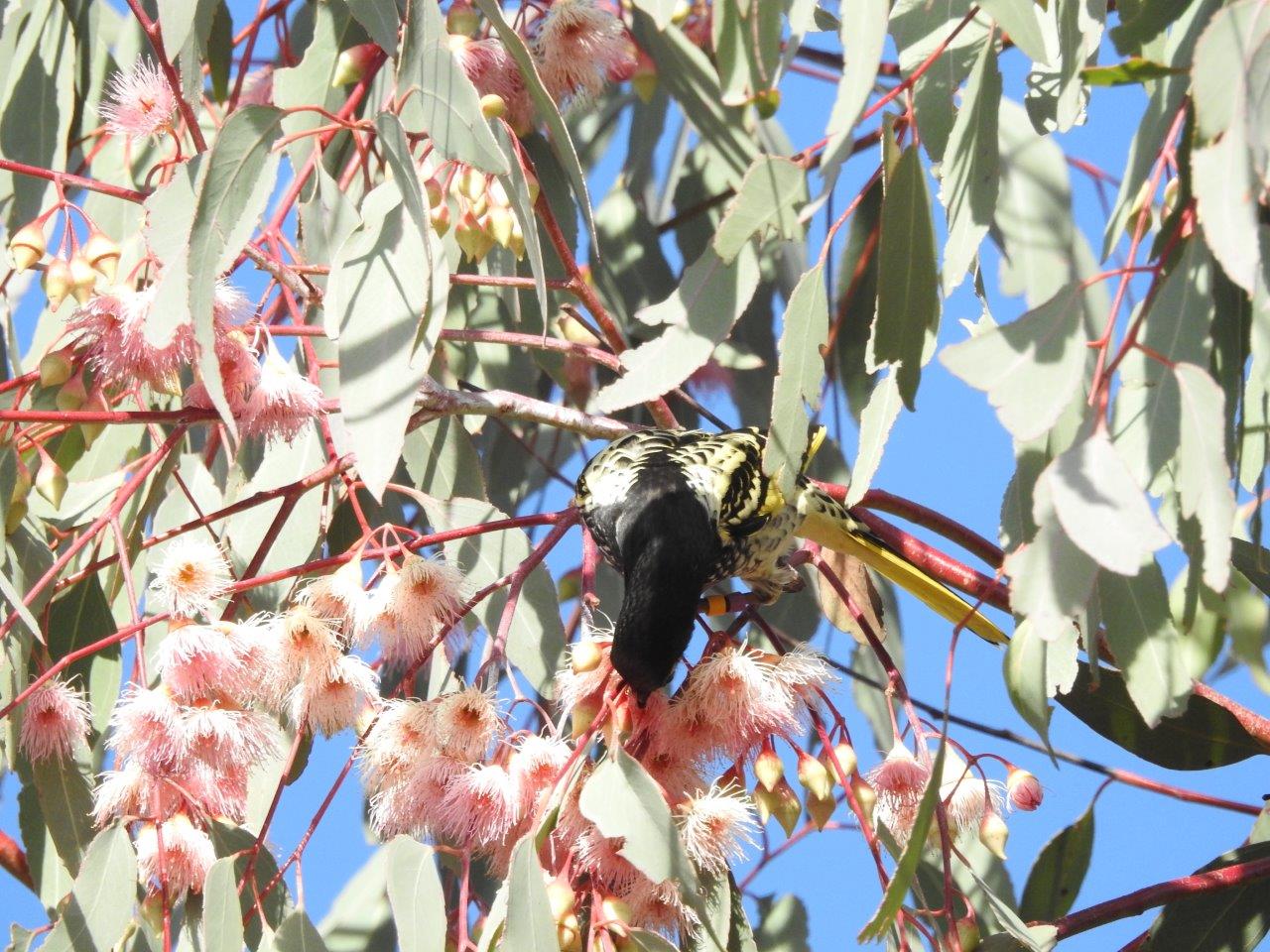 Regent Honeyeater feeding in a small planted Mugga Ironbark on private property demonstrating the value of revegetation on cleared land.
Volunteers even more appreciated!
We're still maintaining a 6 day/week monitoring regime commencing daily at 8.30am (no Saturday's). Many eyes and ears make light work of picking up an increasing number of birds with bands only. There are now less transmitter birds to track but still plenty of birds to tick off daily.

Please contact Liz Wemyss Elizabeth.Wemyss@delwp.vic.gov.au to register and assist with the monitoring program. Remember to bring your bino's, lunch, drinks and warm clothing.

Thanks to everyone that has helped out monitoring to date.

Regent Presentation Night
Chiltern Tourism & Development, Chiltern LandCare & DELWP are hosting this sound & light evening extravaganza.
This is a great opportunity for locals and visitors to learn more about why Regents, the Park and the surrounding box ironbark environment and farmland are so special.
Details: 7.30 -9.00 pm. Friday 26 June Senior Citizens Hall, Conness Street, Chiltern Finger food and possibly a tipple included.
But wait there's more: we'll follow with a 8.30 am Sunday 28th walk in the Park with guaranteed Regent viewing (& radio tracking) and an opportunity to learn more about the natural values of the Park.
Please mark in your calendars now and RSVP for one or both events by 23 June (earlier appreciated) to: Elizabeth.Wemyss@delwp.vic.gov.au
Highlights from the 2015 Regent Honeyeater Captive Release - Update #10 (Day 73 post release)
This is the 11th week post release and it is now possible to compare and contrast this year's survival against the three past releases.

Ten weeks post release is the critical benchmark time period that equates to the minimum viable radio tracking period (i.e. transmitter batteries generally fail after this time - and reliable detection reduces significantly beyond this period)
Year
% Survival *
2008
70%
2010
74%
2013
78%
2015
70% **
* % survival is based on the number of birds known to be alive at end of the 10 weeks.

** The 2015 survival is a minimum figure that will likely increase as additional birds get picked up over the next week or two.
We are now beyond the solstice - the days are starting to lengthen once more, wattles are in bud and about to open on masse. The time for Regent's to commencing pair bonding is around the corner.
one recorded Regent death this week (in total five known to have died - with another a possibility)
17 Regents now with working transmitters - most recorded daily (the reduction from last update due to additional harness breaks with transmitters dropped and or transmitter battery failure). However, most of these are on their last legs and batteries are due to fail soon on these units.
47 Regents (with leg bands only) ...... (although this will change with anticipated new transmitter attachments)
continued regular sightings of the 2013 Black Blue Regent
one wild (no bands) Regent recorded one two separate days.
Image: Catarina Gregson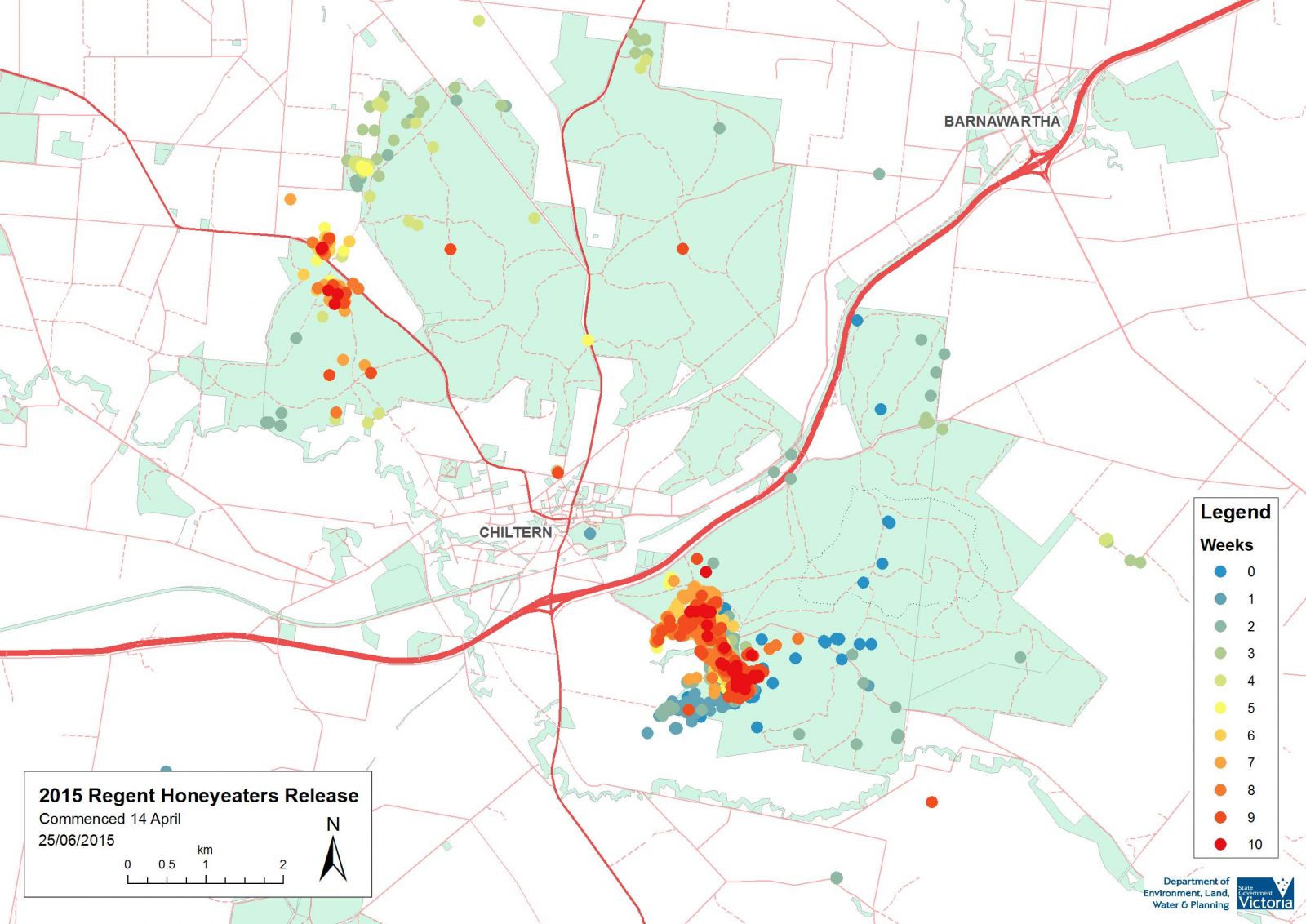 The Regents that we are aware of continue to occupy two key zones.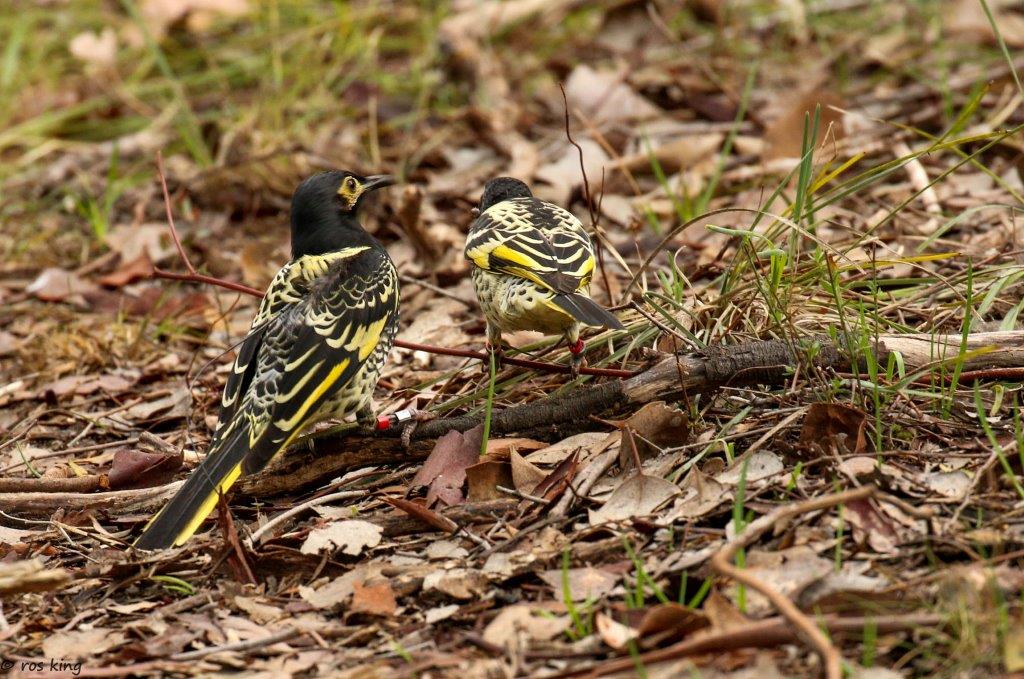 Regent's on the ground. Image: Ross King
Highlights from the 2015 Regent Honeyeater Captive Release - Update #11 (Day 76 post release)
A team of dedicated early risers undertook a second round of Regent recaptures to install new radio transmitters - and hence enable us to monitor at least 15 Regents (and an accompanying cohort of band only birds) for another 10 week period.
Hopefully this will stretch into the Regent breeding season.
Recapture aims achieved
fit 15 new transmitters - thus increasing our capacity to monitor ongoing survival & movement, but importantly better position ourselves to document potential breeding outcomes over the next few months
secure transmitters on a pro rata representation of birds currently in the two known occupation zones
undertake health & welfare checks on transmitter wearing and band only birds (including weight checks to compare against pre release data)
provide valuable 'wild' Regent trapping experience for Michael Shiels/Taronga zoo, and collect samples to increase our wild and ex release Regent disease status knowledge (key information for Taronga & associated Zoo's involved in the Regent captive management program).
Not your average roost?
As was the case with the original (20th May) night owl exercise, 'Project Recapture' targeted roost sites.
We knew that birds were using private land roosts in both occupation zones, but the finer details of the current northern roost was a little surprising (and had changed since last time).
Nine Regents made this their night roost (six were captured)
The pre dusk congregation of approx. 35 Regents on the south side of the park was amazing to view - like watching a flock of starlings en masse - wheel and bank high in the skyline before characteristically diving into prospective night cover. And all the while under the careful gaze and occasional attack from a resident diurnal raptor!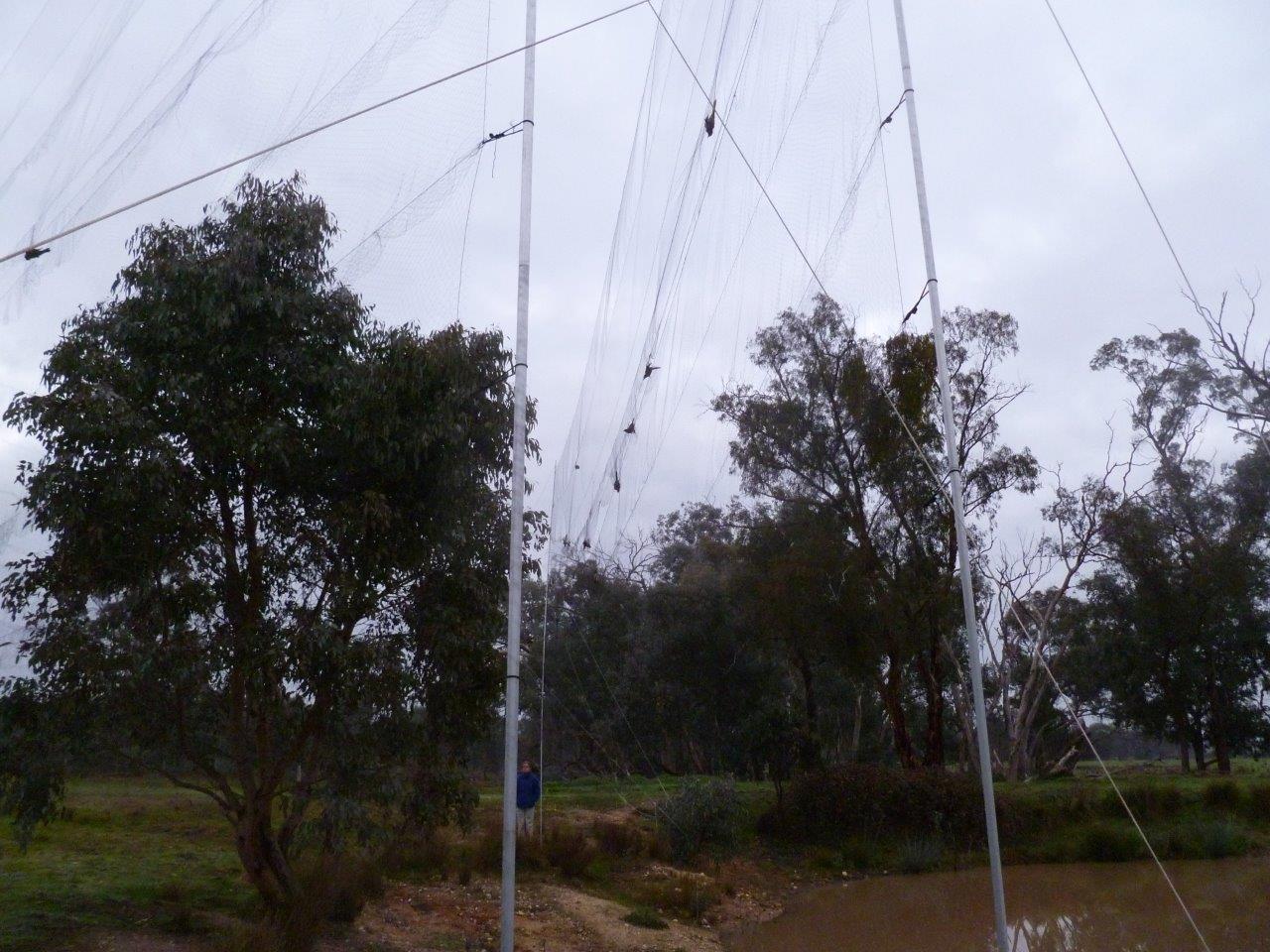 Mist net set up. Note the Regents (small dark silhouettes) in the 8m+ mist net triangulation.
Some of the 15 Regents captured at this site (that included the Corowa wild bird and 2013 Black Blue (now with new bands).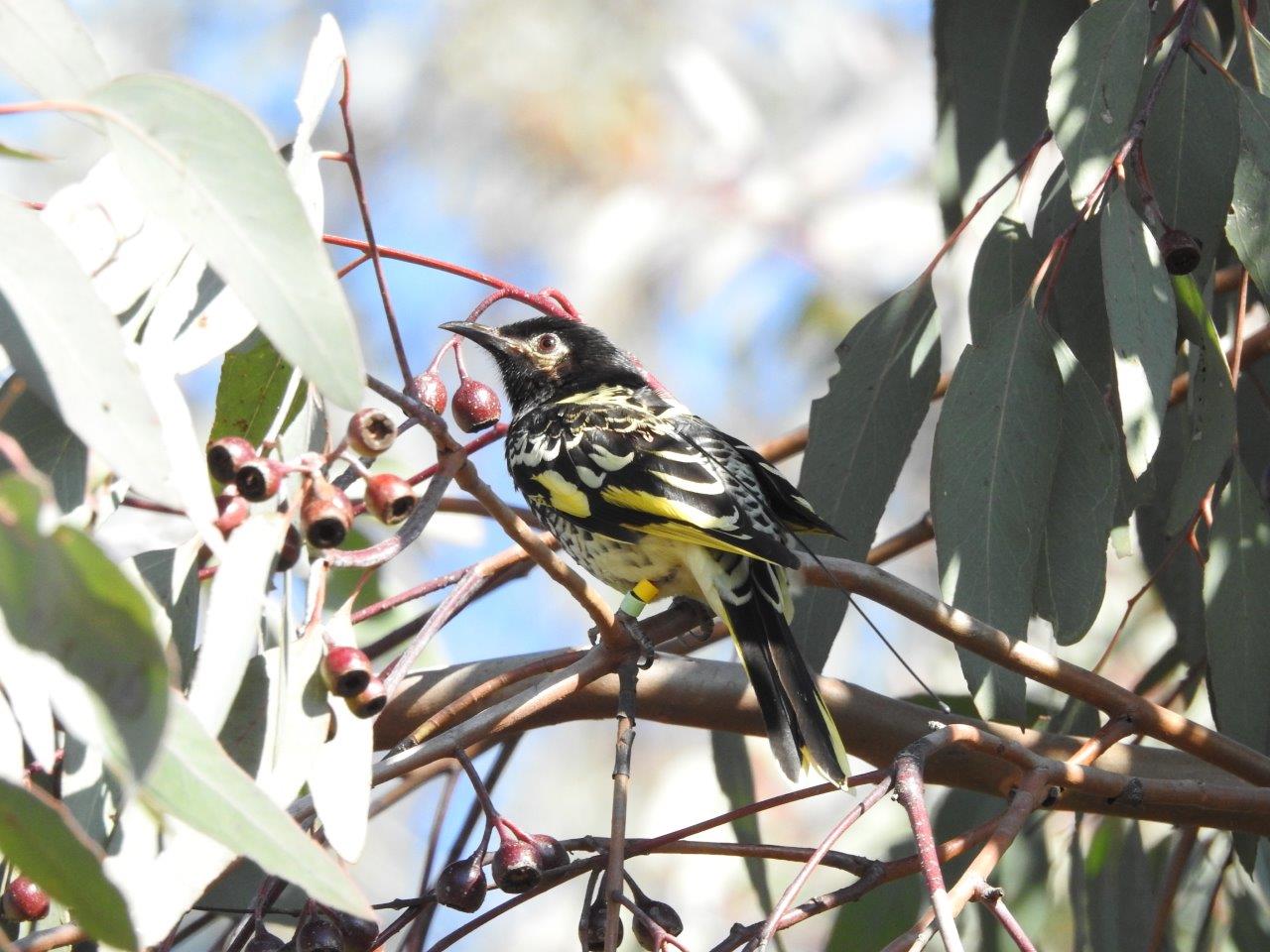 New SirTrack transmitters are being used for the (our) first time - noticeable for antennae being slightly shorter and with a tapered rounded end. Note the harness and its tiny metal breast crimp are not visible - already preened into feathers only a couple of hours post attachment.
Highlights from the 2015 Regent Honeyeater Captive Release - Update #12 (Day 90 post release)
Another two Regent deaths have been recorded since the last update (likely cause: predation by resident south side Sparrowhawk/Goshawk)
14 Regents now with working transmitters (we should get at least another six weeks radio tracking capacity from these units).
56 Regents individually recorded over the last week - that's still an impressive 72% known to be alive 12 weeks+ post release
Regents (that we have tabs on) are still in two groups (separated by around 6-8 km) comprising 8-10 birds in the north and a large group within vicinity of the original release area.
Ironbark flowering is on the wane but is still the main Regent tucker while White Box blossom is increasingly available (and being utilised) - and although no where are prolific as previous years there's a sprinkling of 'hybrid box/ironbark' trees in bud that offer future foraging opportunities for many weeks to come.
Golden Wattle flowering in the Park.
Insects are also routinely being hawked from the tops of euc's, but volunteers are also frequently treated to low level close range Regent observations while birds are taking small insects from Varnish and Golden Wattle - with birds even seen foraging on the ground.
Noisy Miner project update
More volunteer opportunities are available - this time to assist Colleen Fraser, La Trobe Honours student undertaking a series of 20 min 2 ha plot surveys to compare bird diversity and numbers in areas where Noisy Miners have been controlled against those in non control zones.
This is another great opportunity to contribute to research in the Park.
General bird ID skills and binos only required. Please contact Colleen direct: 0407 432 461 ce2fraser@students.latrobe.edu.au

National survey weekend - 1 & 2 August
This upcoming weekend provides the next opportunity to gain a nationwide snap shot of current Regent Honeyeater & Swift Parrot distribution and abundance.
Schedule to check you patch of bush during this time, especially target areas supporting flowering euc's/lerps or a diversity of smaller honeyeaters / lorikeets.
http://www.birdlife.org.au/documents/WB-Swift_Parrot-Regent_Honeyeater-survey-sheet-2014.pdf
Regent Volunteers - more opportunity to participate!
We're still maintaining a 6 day/week monitoring regime commencing daily at 8.30am (no Saturday's).
Pleases contact Glen Johnson to register and assist with the monitoring program, 02 6043 7924
Highlights from the 2015 Regent Honeyeater Captive Release - Update #13 (Day 116 post release) - August 2015
Only six Regents have operational transmitters (there's been two more recorded deaths since the last update, but several other [alive] birds have dropped their transmitters (due to harness breaks))
Despite this, due to the collective efforts of fantastic monitoring teams, 42 individual Regents have been recorded in the last week
This figure includes the 2013 Black Blue and 'Corowa' wild (banded) bird
Despite the frigid conditions, Regents are pairing up, and other small honeyeaters are already into nest construction.
Monitoring has been reduced to 5 days/week.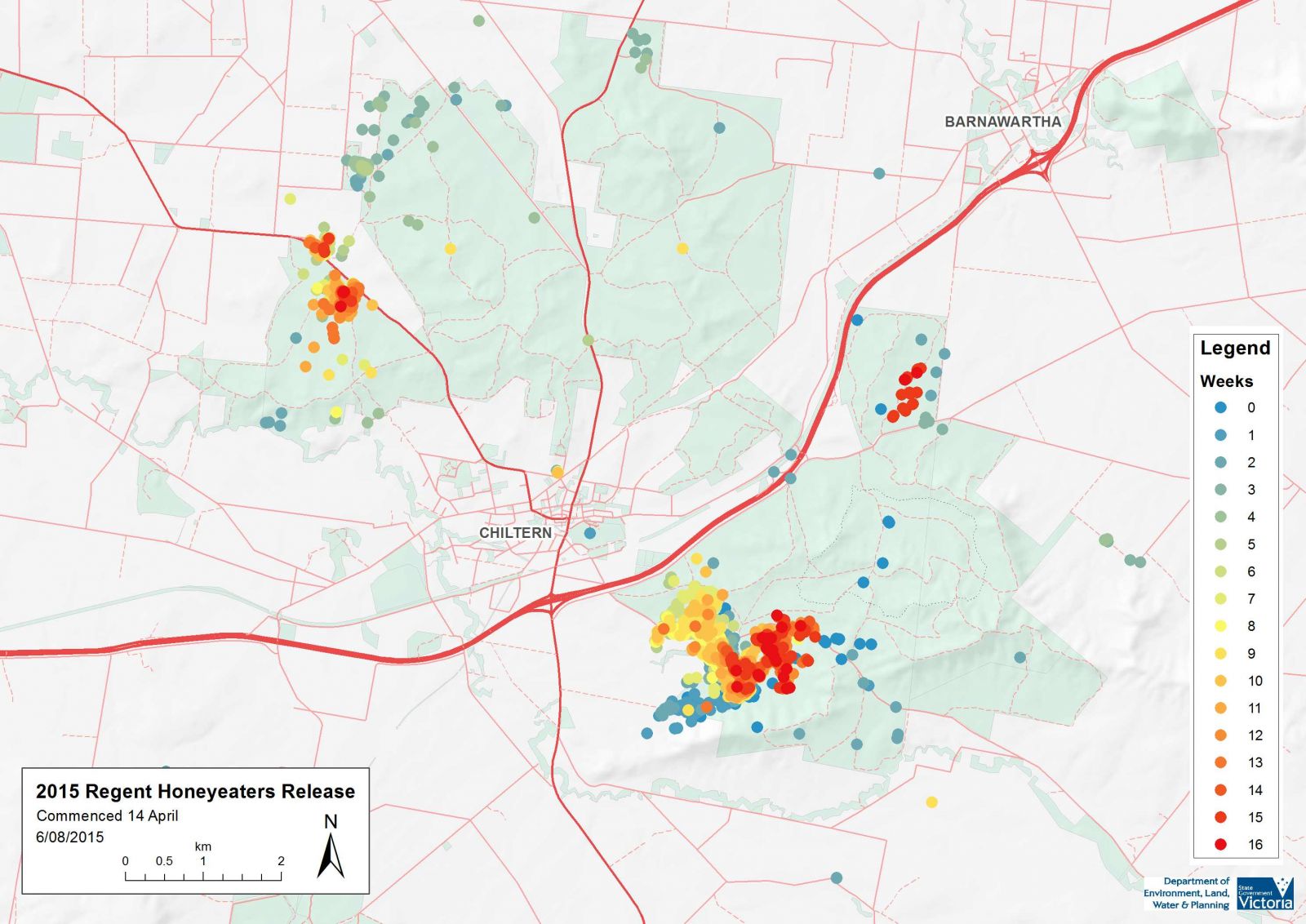 Regents are now know in three distinct areas (one north and two south of the freeway) - Map thanks to Vanessa Giles, DELWP Wodonga GIS Officer
Critically Endangered
Recently the Federal Government listed the Regent Honeyeater as Critically Endangered under the Environment Protection and Biodiversity Conservation Act 1999 in response to a nomination by BirdLife Australia.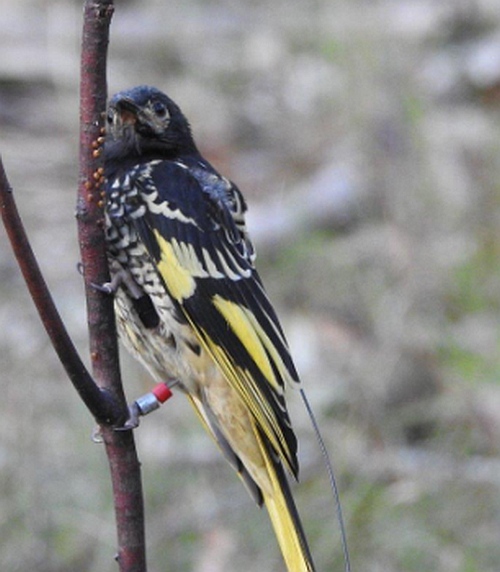 Regent Honeyeater with SirTrack transmitter antennae. Image: Glen Johnson
Highlights from the 2015 Regent Honeyeater Captive Release - Update #14 (Day 151 post release) - September 2015
Three Regents wearing working transmitters. Two of these were only newly attached to Regents last week (courtesy of an Ethics Permit minor amendment approval) which potentially means another 8-10 week window into 'where the Regents roam' into the end of spring.
34 Regents were recorded in the last week, many of these are paired up. More are tucked away somewhere without us knowing where!
Taronga staff advise breeding at the zoo is progressing well and they are hoping for a bumper recruitment season.
No wild Regents, but still the one regular ex-2013 release bird was seen in the last week.
The last of the Ironbark flowering and bursts of late flowering White Box is keeping all things honeyeater

but flowering is slowly coming to an end

. Red Box flowering now commencing through to January plus the host of insects attracted.

Thanks to the volunteers, staff and volunteer coordinators.
Regent Volunteers - still heaps of opportunity to participate!
You can help in the 5 day/week monitoring regime commencing daily at 8.30am (no Wednesday's or Saturday's).
Pls contact Liz Wemyss, Elizabeth.Wemyss@delwp.vic.gov.au to register and assist with the monitoring program.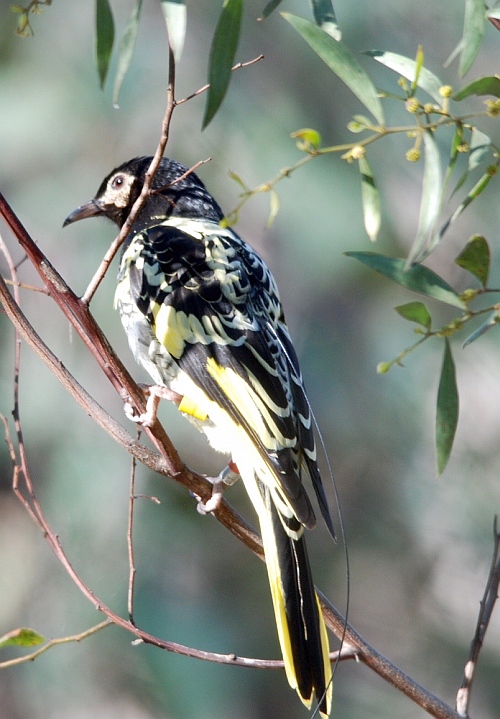 Regent Honeyeater with transmitter. Image: Greg Hardham.
Highlights from the 2015 Regent Honeyeater Captive Release - Update #15 (Day 168 post release)
Only one Regent continues to wear a working transmitter.
Despite this 27 Regents were still recorded in the last week (although it's getting harder to nail them!)
We've recorded several failed Regent nest attempts thus far! Most have been abandoned during the nest construction phase, a couple have reached but failed during the incubation period.
Still no wild Regents in the Park/District, but the one regular ex-2013 release bird is still being routinely observed (& is paired up with a 2015 release bird).
More recently there's been a late season influx of Noisy and Little Friarbird and small mobs of Swift Parrots still hound the last of the flowering patches in the Park.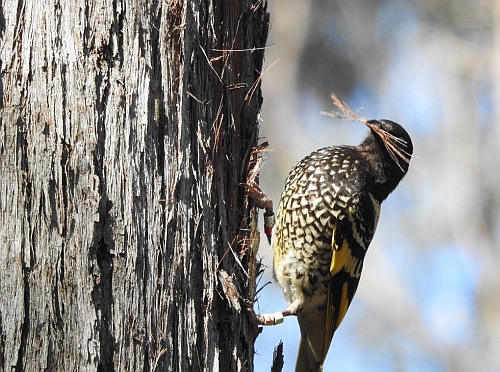 Fine Stringybark fibres are usually a key component of Regent nests (in NE Vic) - unfortunately the material going into this Green Pink (PK) nest is one that failed. Image: Glen Johnson.
The recent fledging of one young from a pair of release birds has been recorded. Hopefully it's the first of more to come this season!

Two Regents continue to wear working transmitters.
18 ex captive Regents, one female wild Regent and the one regular ex-2013 release bird were recorded in the last week.
The later is paired with White Red (one of the 2015 release birds) and together they've commenced four separate nests, but like others, have yet to get to the incubation phase or failed at that hurdle.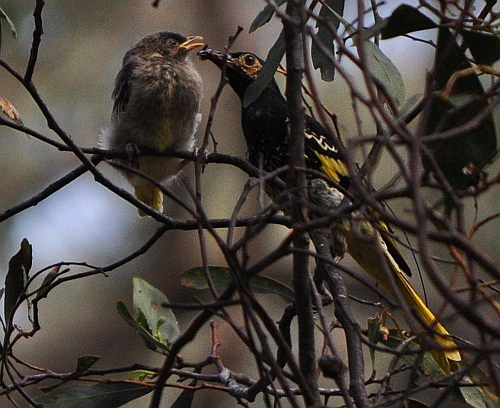 Fledgling nick named 'Lucky' or 'Plop' day one out of the nest 9 Oct. 2015. Image: Matt Lincoln.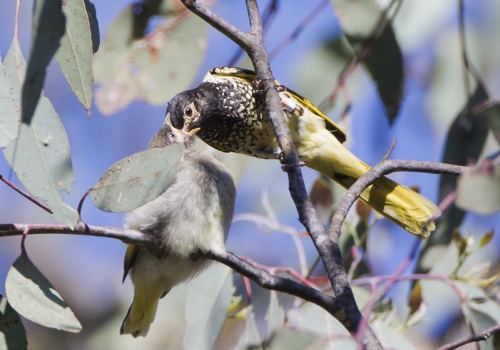 'Lucky' day four post fledging. Image: Dean Ingwersen (Birdlife Australia)
All Regent Parrots that had been monitored moved out of the Park/forest areas some weeks ago to adjoining private properties.

One small group was recently detected several kilometres away on private property.

Taronga Zoo are on track to provide another big number of captive bred birds for the next release - planned for Chiltern in April 2017.

This year the bounty of flowering bottlebrush in private gardens adjoining the park have been keenly utilised by Regents - demonstrating just one of the values (along with water efficiency) of making native plants the backbone of your home garden.

Formal monitoring of Regent Honeyeaters in the Chiltern-Mt Pilot National Park has finished for this season and will resume again in 2016.
Monitoring breeding attempts
Over the last few months the Regent Team and volunteers have identified and monitored the outcomes of 11 individual breeding pairs and 25 separate nest attempts. Unfortunately only one nesting being successful. This demonstrates part of the reason why the Regent Honeyeater is classified as nationally Critically Endangered.
Determining the reasons for breeding failure has been a key recent focus of a PhD project by Gemma Taylor. The use of 24-hour video surveillance of nests has provided some insight into the reasons for nesting failure which includes predation of eggs by Sugar Gliders and Squirrel Gliders, Australian Magpie and House Sparrow.
Birdlife Australia media release
YouTube footage of Sugar Glider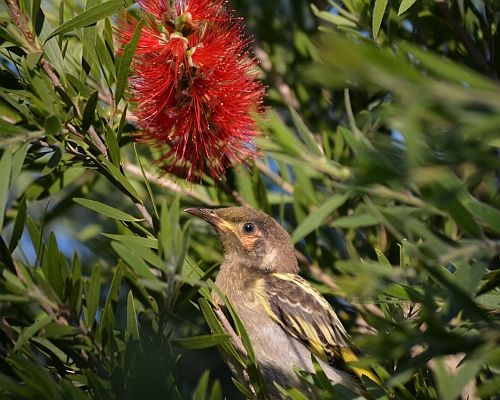 Regent Honeyeater fledging 'Lucky' 28 days post fledging. Images: Graham Watson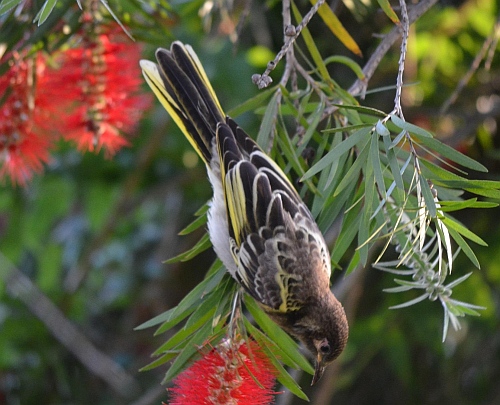 Regent Honeyeater fledging called 'Lucky" now well over a month (36 days) post fledging feeding on flowering bottlebrush. Lucky's parents are both 2015 captive-bred release birds. Lucky is so named as it was one second away from being consumed by a magpie (a fate suffered by it's less fortunate 'No so Lucky' sibling) on the day of fledging from the nest.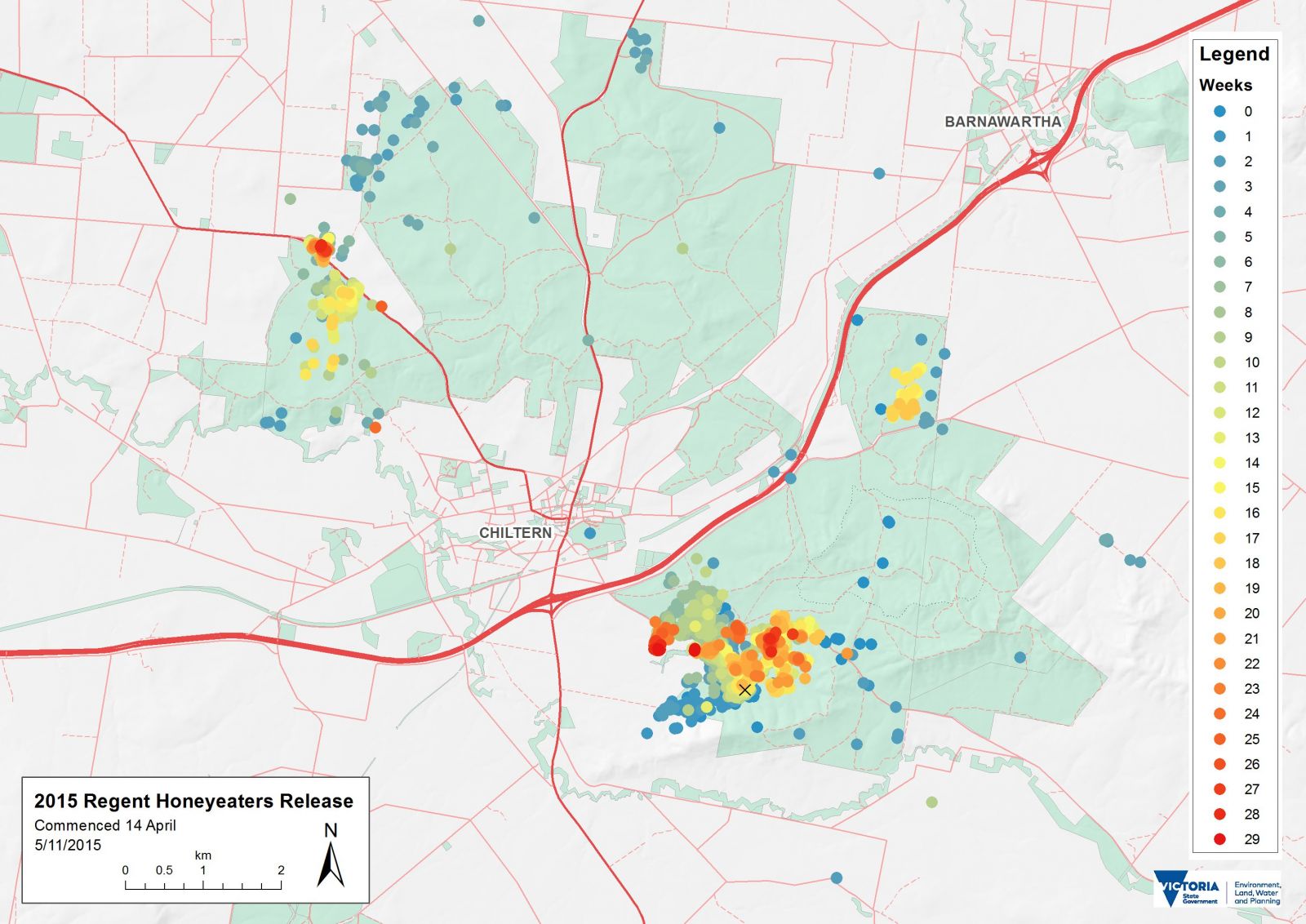 Over 4000 volunteer hours (plus another almost 3000 field hours from the coordinator team) have contributed over 5900 individual GPS waypoints. A female White Pink (Lucky's mum) takes the cake for the most recorded bird this year with more than 150 separate GPS records in the 219 day post release period (to date). Map Source: Vanessa Giles, DELWP Hume Region GIS Officer.
Highlights from the 2015 Regent Honeyeater Captive Release - Update #18 (360 days post release)
Almost a year since the mid April 2015 release the first 2016 sightings of ex-captive birds have recently been recorded.
Mauve Yellow : 2.5 yr old female last recorded on 11 November 2015 on private land near Chiltern was observed in West Albury in late February 2016 (approx. 20 km straight line distance from Chiltern).
Blue Blue: 2.5 yr old male last recorded on 27 Oct on private land near Chiltern was recently observed feeding on the big flowering Ironbark on the lake edge near the Chiltern caravan park in the company of a wild (un-banded) Regent.
Wild bird: see Matthew Rodgers fantastic images of both the wild Regent and Blue Blue on flicker: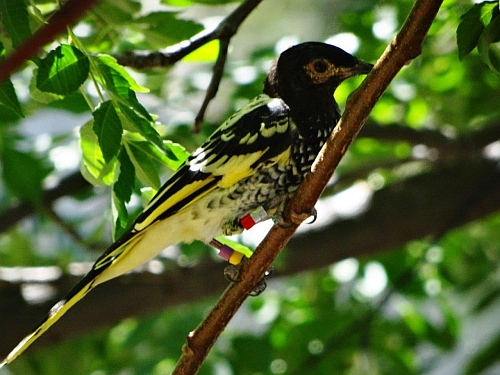 Early flowering
Despite the long hot summer this part of Australia experienced significant rain events in November and early January which could have contributed to the earlier than usual commencement of Mugga Ironbark Eucalyptus sideroxylon flowering in our Region - with some trees in blossom in mid Feb. this year. In addition Grey Box Eucalyptus microcarpa is flowering reasonably well - and unbelievably within sections of the Park White Box is in reasonable bud for a third consecutive year and is set to flower well again this year. Unlike last year the Hybrid Box Ironbark looks set to also provide additional nectar resources throughout the Autumn Winter period to come.
Late nesting
Late last year the team detected another couple of nest attempts (the 26th & 27th recorded for the breeding season) on private land with one successful (at least to fledging stage). Unfortunately all birds (parents, x2 fledglings and another pair of birds) went off the radar (despite searching) on day two post fledging. We're unsure whether they simply left camp to greener pastures or whether the fledglings perished and adults moved on?

2017 planning update
Judith Gillespie, Curator, Wildlife Conservation & Science @ Taronga Zoo advised Taronga and other institutions had a 'reasonable' spring-summer Regent breeding season and are on track to at least supply a similar number to last year's release for the 2017 Chiltern release.
Report sightings
It's Regent Honeyeater time again in north-east Victoria and southern New South Wales.
The Regent Honeyeater team wants people to keep an eye out wherever there is good flowering. Both remnant and planted native trees and shrubs are potential spots to search, especially if there's other smaller honeyeater or lorikeets on masse. And remember heavy lerp infestations on non flowering Eucalyptus can be another resource used by many honeyeaters, Regents included. Areas of flowering Box-Ironbark are good spots to check.
If you spot any or hear of Regent's observations please report it so the team can follow-up to check for further birds etc. If you have binoculars check for bands and if possible forward any images.
National Regent / Swift Survey Weekend - 14 & 15 May 2016
Volunteers are invited to join in the Chiltern Park survey on Sat 14 May. The aim is to rotate as many small teams of 2 or 3 people as possible through selected blocks supporting good flowering to maximise our chances of finding Regents & Swifts. Contact Glen Johnson 02 6043 7924n by 11 May.
If you are interseted in volunteering for Regent Honeyeater monitoring in 2016 please contact Glen Johnson 02 6043 7924
Regent Honeyeater nick named 'Lucky' feeding. Source: Glen Johnson.
Highlights from the Regent Honeyeater Captive Release - Update #19 May 2016
It is one year one month since the 2015 Regent Honeyeater captive release.
Six of the 2015 captive released Regent Honeyeaters have now been confirmed alive 12 months post release.
Another one or possibly two Regents were heard & or seen but the presence of bands or band combinations not confirmed.
Also we are still following up recent sightings of three Regents on the north end of the Park (adj. Rutherglen Rd) but have yet to nail the birds' identities.
Climate
Good autumn rainfall was recorded in the Chiltern area with over 100ml in the second week of May.
National Regent Honeyeater / Swift Parrot Survey Weekend - 14 & 15 May 2016 - Outcomes
Organisers extend a big thank you to the 26 enthusiastic surveyors who participated in the Chiltern search on the weekend.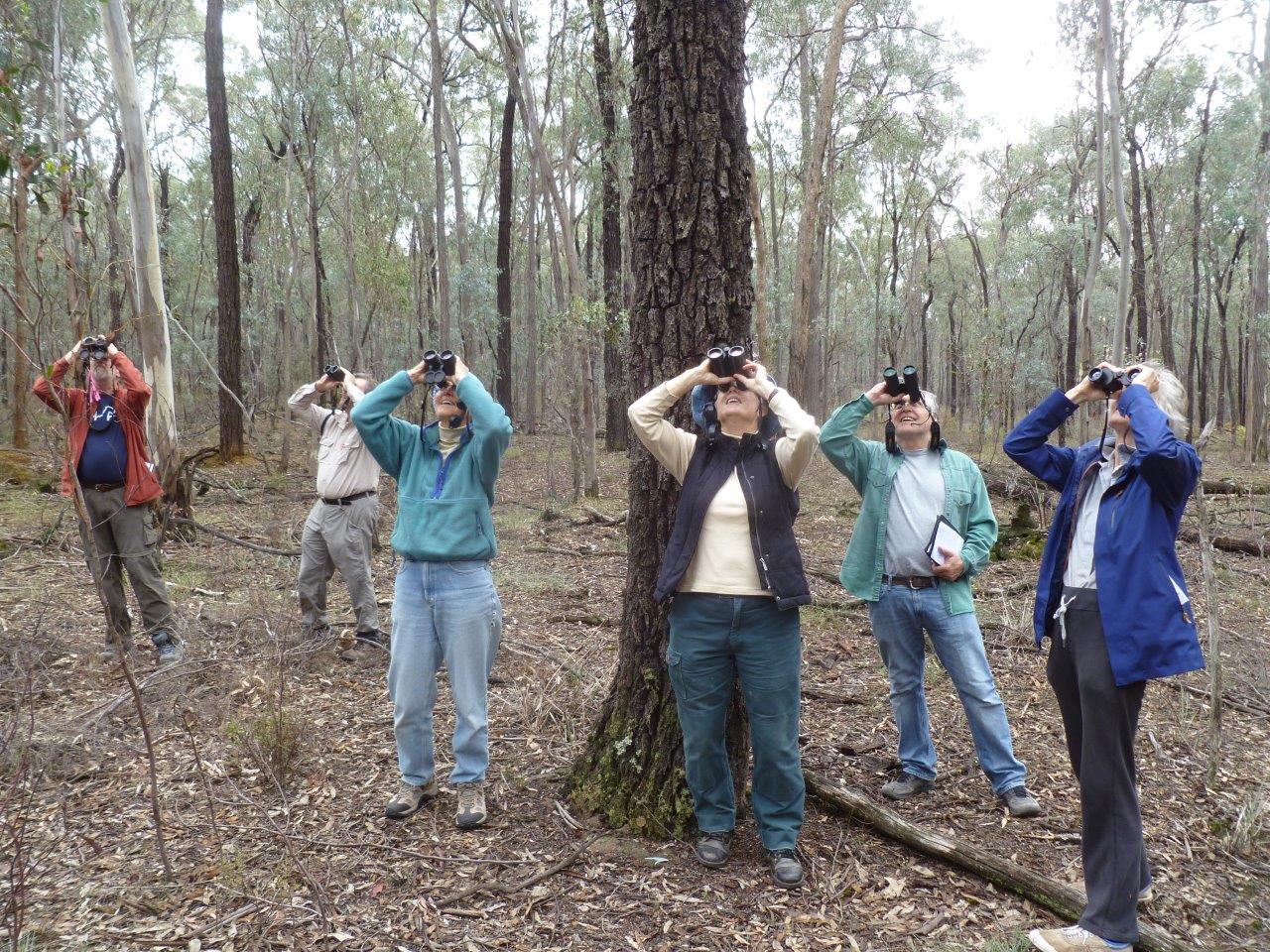 Four ex 2015 release Regents were confirmed (two of which had not been seen so far in 2016) as follows:
White Orange: Male last recorded on 23 Nov. (two unsuccessful nest attempts with female Orange Orange last year)
Mauve Black: Male last seen 7 December.
Yellow Yellow: Male recently recorded several times at Cyanide but previously last seen on 11 Oct.
All three above were recorded on the Barnawartha Depot Road near the interface with the December wildfire impacted zone (the birds were in the un-burnt section).
White Mauve: Male recently recorded on Magenta Rd and again at the weekend at Magenta Mine.
No wild Regents were seen on the survey weekend at Chiltern, however a one wild male Regent was recorded on Sunday at Allan's Flat (north east of Yackandandah).

Regent nectar - flowering status:
Mugga Ironbark is still the 'go-to' species for Regents however, as noted in Update #18 it commenced flowering much earlier this year and has already peaked in some areas.
Hybrid Ironbark-Box has commenced flowering and is a great nectar source in the transition before White Box kicks in.
White Box is in heavy bud and looking good - and has just commenced flowering in the park.
Report sightings
Please report any Regent sightings or hear of Regents observations (so we can help follow-up to check for further birds etc). Remember to check for bands with binoculars and take & forward photo's were possible.
Contacts: Glen Johnson 02 6043 7924 or Dean Ingwersen, BirdLife Australia, 03 9347 0757 ext 247