SWIFFT Seminar notes 22 October 2020
Native grasslands

SWIFFT seminar notes are a summary of the seminar and not intended to be a definitive record of presentations made and issues discussed.
This SWIFFT seminar was conducted online via Microsoft Teams (159 participants) and streamed live via YouTube (107 views). SWIFFT wishes to acknowledge support from the Department of Environment, Land, Water and Planning, Victoria in organising the seminar and thank speakers for their time and delivery of presentations. Thanks to Michelle Butler who chaired the session from Ballarat and acknowledged the Elder's past and present on the lands covered by the meeting.
A special thank you to Amos Atkinson who acknowledged the traditional lands covering the seminar across Victoria. Amos affirmed his people's connection to Country and welcomed us to the home of the Dja Dja Wurrung people.
Key points summary
List of speakers and topics
Is disturbance switching a useful restoration tool? - Dr John Morgan, Associate Professor, Department of Ecology, Environment and Evolution | La Trobe University
Two ways of knowing natural temperate grasslands of the Victorian Volcanic Plain - Chase Aghan - Project Officer (Forest, Fire and Parks) for Wadawurrung Traditional Owners Aboriginal Corporation and Dr Brad Farmilo - Senior Scientist & Plant ecologist, Arthur Rylah Institute for Environmental Research (DELWP)
Returning Dja Dja Wurrung to the landscape - Nathan Wong, Dja Dja Wurrung Clans Aboriginal Corporation and Amos Atkinson, Project Officer with Dja Dja Wurrung
Fat-tailed Dunnarts of the Victorian grasslands - Emily (Millie) Scicluna - PhD Candidate, La Trobe University
SPEAKER SUMMARIES
Speaker summaries are adapted from presentations and are not intended to be a definitive record of presentations made and issues discussed.
Is disturbance switching a useful restoration tool?
Dr John Morgan, Associate Professor, Department of Ecology, Environment and Evolution | La Trobe University
John's presentation focused on disturbance switching from sheep grazing to fire in managing grassland and grassy woodlands.
John spoke about the commonality between the higher quality native grasslands, these are grasslands which have had some degree of burning over many decades, either without or very little grazing by stock.
Grassland ecology
Regular burning is almost critical for the survival of many native grassland plants. Without burning, native species can be swamped by competitive grasses. After an Autumn fire event many of the native grassland species resprout and flower during the Spring and persist as short stems between fires.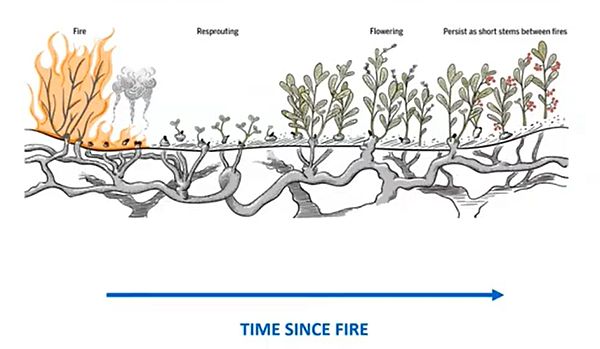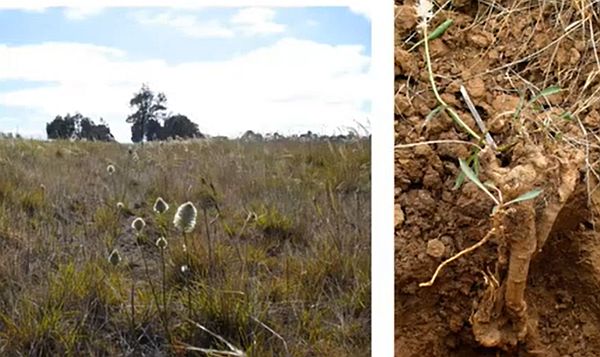 Biomass removal
John spoke about the benefits of regular burning in reducing biomass and creating gaps between the grasses which promotes a diverse number of species to co-exist and flower on a regular basis. Prior to European settlement grassland biomass reduction occurred through indigenous burning and through digging and grazing by native fauna.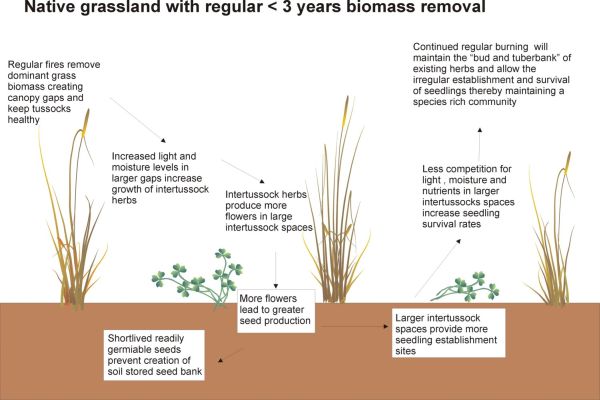 Managing native grasslands across different land tenure
John made reference to the fact that many of the high-quality native grasslands are confined to linear roadside reserves which have benefited from regular burning with minimal stock grazing. The problem which needs to be addressed is management of native grasslands on private land and public land blocks, many of which have little or no history of being burnt.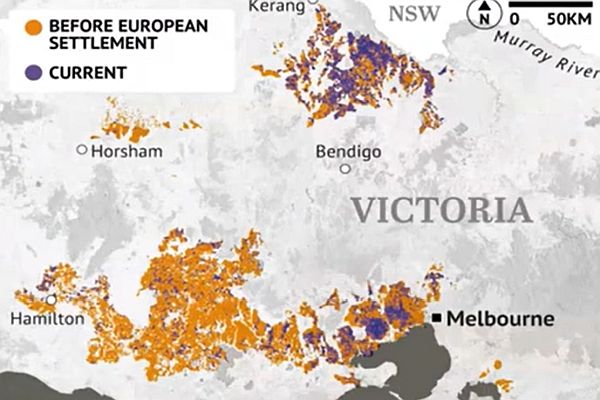 Grassland management in Northern Victoria
John spoke about the management of remnant native grasslands in northern Victoria, particularly previous farm blocks which are now managed for conservation. John pointed out that many have had sheep grazing for over a Century which has led to a particular type of native grassland where many species have disappeared but some have benefited.
Management theory has often relied on maintaining the status quo when new grassland blocks are obtained. If a paddock has been grazed by sheep for decades yet still contains native grasses should we continue the same regime or should we try to improve the grassland by switching the way grazing is undertaken? Change the season or duration of grazing to try and promote more diversity of species.
Case studies on the Volcanic Plains
John referred to some of the long-running research projrcts on the Volcanic Plains near Birregurra, Darlington and Hamilton which looked at switching grazing regimes to determine if gains could be made to improve native grasslands.
Changing the duration of grazing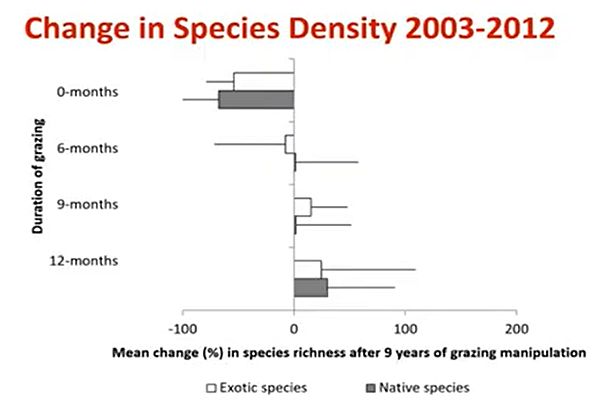 The need to improve native grasslands
John spoke about the need to actually improve grasslands and restore species like grassland daisies and grassland orchids. Clearly, just changing the duration of grazing does not lead to substantially better outcomes. Switching disturbance from sheep grazing to other forms of disturbance has been the subject of more recent research. Switching from sheep grazing to fire or slashing or other means.
Case study – Wannon Water Reserve
John spoke about research which involved shifting from sheep grazing to burning. The study site has been grazed for over 100 years and although still containing some native grasses many of the species have disappeared. Trials of Autumn burning have been carried out on an annual basis and a biannual basis since 2012. A series of permanent monitoring plots were established at the start of the burning trial program.
John pointed out that many of the species, including some endangered species are now more obvious at the site but he uses two measures to determine if the grassland is getting better, 1. Native species richness and 2. Native species cover.
Species richness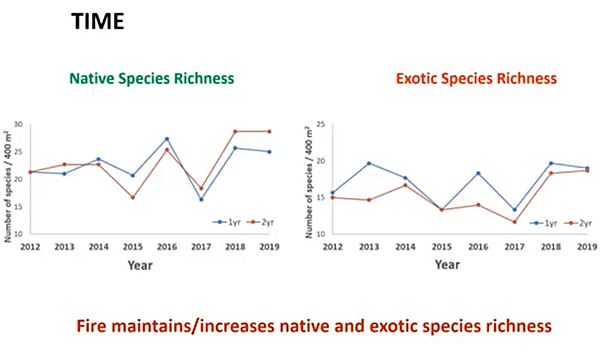 Species cover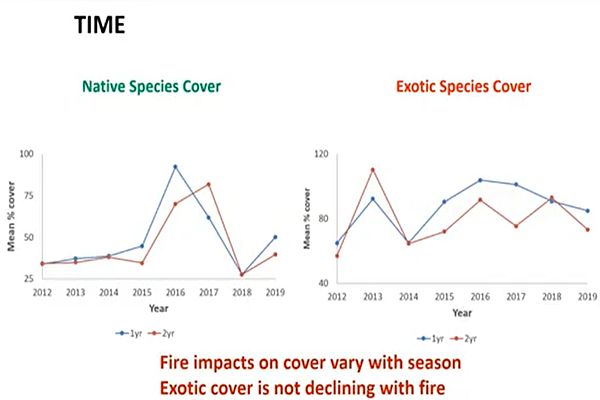 Combining the results from species richness and species cover it becomes apparent that seasonal climate variability and the timing of rainfall plays a major role. Switching disturbance regimes does not yield immediate change, it is a slow a long-term process.
Analysis
John spoke about some of the reasons why more species did not benefit from the burning regime. With species being lost due to long-term historic grazing the upright plants have most likely been wiped out and the soil seed bank lost.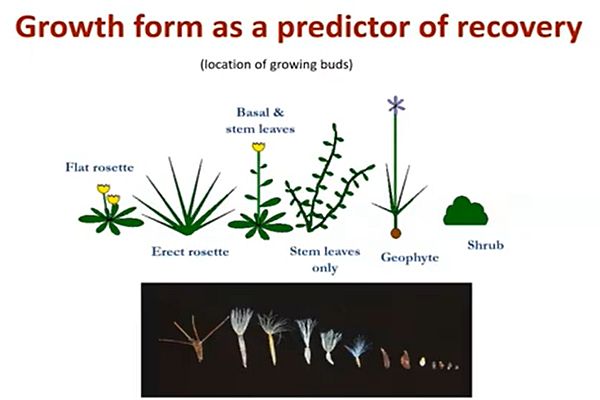 Positive outcomes when applying seed
John referred to research now published in Restoration Ecology; Land‐use legacies limit the effectiveness of switches in disturbance type to restore endangered grasslands. Jodi N. Price Nick L. Schultz Joshua A. Hodges Michael A. Cle