Threatened species projects
The following projects relate to threatened species or their habitats. Share your project
Fauna projects
Flora projects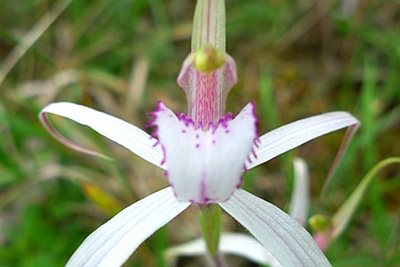 Location: Bannockburn area - north west of Geelong, Victoria
Activities: Monitoring, surveys to discover new populations, micro manage habitat. See: Dwarf Spider Orchid
Partners: Department of Environment, Land, Water and Planning, Parks Victoria, Royal Botanic Gardens, Australian Native Orchid Society, volunteers.
Contacts: Donna McMaster DELWP - Ballarat, Ph. 136 186
Hoary Sunray Rehabilitation Project - Leucochrysum albicans var. tricolor
Location: Duverney - Hamilton Highway, winter spring 2013 into 2014
Activities: Rehabilitate approx. 2.5 hectares of Plains Grassland, sowing Hoary Sunray seed August 2013
Partners: VicRoads
Contacts: Matt Mooney, 5222518
Cross-border Community Nursery
Location: South-west Victoria and South-eastern South Australia
Activities: Regional community seed bank, community nursery, community education.
Partners: Nature Glenelg Trust natureglenelg see: Cross-border Community Nursery
Contacts: Project co-ordinator Becky McCan, 0409 842 471