Threatened fauna East Gippsland Shire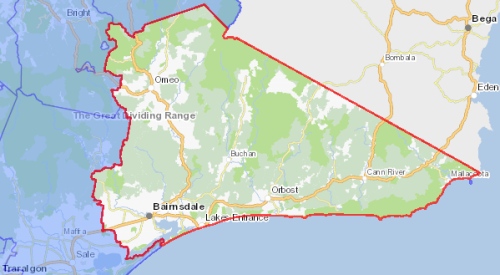 Note: This page is intended to provide an overview of all known (including historic) records of fauna in the East Gippsland Shire which are considered threatened under the Victorian FFG Threatened List 2021.
Victorian conservation status

EX
Extinct
CR
Critically Endangered
EN
Endangered
VU
Vulnerable
Th
Threatened
Common name

Scientific name

Conservation status

Victorian FFG threatened list

East Gippsland Shire – threatened birds

Australasian Bittern
Botaurus poiciloptilus
CR
Australian Bustard
Ardeotis australis
CR
Australian Little Bittern
Ixobrychus minutus dubius
EN
Australian Painted Snipe
Rostratula benghalensis australis
CR
Australasian Shoveler
Anas rhynchotis
VU
Azure Kingfisher
Alcedo azurea
-
Baillon's Crake
Porzana pusilla palustris
-
Barking Owl
Ninox connivens
CR
Black Bittern
Ixobrychus flavicollis australis
EN
Black-browed Albatross
Diomedea melanophris melanophris
- (VU EPBC)
Black-eared Cuckoo
Chrysococcyx osculans
-
Black-faced Cormorant
Phalacrocorax fuscescens
-
Black Falcon
Falco subniger
CR
Black-tailed Godwit
Limosa limosa
CR
Blue-billed Duck
Oxyura australis
VU
Brolga
Grus rubicunda
EN
Brown Treecreeper
Climacteris picumnus victoriae
-
Caspian Tern
Hydroprogne caspia
VU
Chestnut-rumped Heathwren
Calamanthus pyrrhopygius
VU
Common Diving-Petrel
Pelecanoides urinatrix
-
Common Greenshank
Tringa nebularia
EN
Common Sandpiper
Actitis hypoleucos
VU
Curlew Sandpiper
Calidris ferruginea
CR
Diamond Dove
Geopelia cuneata
VU
Diamond Firetail
Stagonopleura guttata
VU
Eastern Bristlebird
Dasyornis brachypterus brachypterus
CR
Eastern Curlew
Numenius madagascariensis
CR
Eastern Great Egret
Ardea modesta
VU
Elegant Parrot
Neophema elegans
VU
Emu
Dromaius novaehollandiae
-
Fairy Prion
Pachyptila turtur
-
Fairy Tern
Sternula nereis nereis
CR
Freckled Duck
Stictonetta naevosa
EN
Glossy Black-Cockatoo
Calyptorhynchus lathami lathami
CR
Glossy Ibis
Plegadis falcinellus
-
Great Knot
Calidris tenuirostris
CR
Greater Sand Plover
Charadrius leschenaultii
VU
Grey Falcon
Falco hypoleucos
VU
Grey Goshawk
Accipiter novaehollandiae novaehollandiae
EN
Grey-headed Albatross
Diomedea chrysostoma
EN
Grey Plover
Pluvialis squatarola
VU
Grey-tailed Tattler
Tringa brevipes
CR
Ground Parrot
Pezoporus wallicus wallicus
EN
Gull-billed Tern
Gelochelidon nilotica macrotarsa
EN
Hardhead
Aythya australis
VU
Hooded Plover
Thinornis rubricollis rubricollis
VU
Hooded Robin
Melanodryas cucullata
VU
King Quail
Coturnix chinensis victoriae
EN
Latham's Snipe
Gallinago hardwickii
-
Lesser Sand Plover
Charadrius mongolus
EN
Lewin's Rail
Lewinia pectoralis pectoralis
VU
Little Eagle
Hieraaetus morphnoides
VU
Little Egret
Egretta garzetta nigripes
EN
Little Tern
Sternula albifrons sinensis
CR
Magpie Goose
Anseranas semipalmata
VU
Marsh Sandpiper
Tringa stagnatilis
EN
Masked Owl
Tyto novaehollandiae novaehollandiae
CR
Musk Duck
Biziura lobata
VU
Nankeen Night Heron
Nycticorax caledonicus
-
Pacific Golden Plover
Pluvialis fulva
VU
Pacific Gull
Larus pacificus pacificus
-
Painted Honeyeater
Grantiella picta
VU
Pied Cormorant
Phalacrocorax varius
-
Plumed Egret
Ardea intermedia plumifera
CR
Powerful Owl
Ninox strenua
VU
Red-chested Button-quail
Turnix pyrrhothorax
EN
Red Knot
Calidris canutus
EN
Regent Honeyeater
Anthochaera phrygia
CR
Royal Spoonbill
Platalea regia
-
Ruddy Turnstone
Arenaria interpres
EN
Sanderling
Calidris alba
-
Shy Albatross
Diomedea cauta
EN
Sooty Owl
Tyto tenebricosa tenebricosa
EN
Sooty Oystercatcher
Haematopus fuliginosus
-
Southern Giant-Petrel
Macronectes giganteus
EN
Speckled Warbler
Chthonicola sagittatus
EN
Spotted Harrier
Circus assimilis
-
Spotted Quail-thrush
Cinclosoma punctatum
-
Square-tailed Kite
Lophoictinia isura
VU
Superb Parrot
Polytelis swainsonii
EN
Swift Parrot
Lathamus discolor
CR
Terek Sandpiper
Xenus cinereus
EN
Turquoise Parrot
Neophema pulchella
VU
Wandering Albatross
Diomedea exulans
CR
Whimbrel
Numenius phaeopus
EN
Whiskered Tern
Chlidonias hybridus
-
White-bellied Sea-Eagle
Haliaeetus leucogaster
EN
White-faced Storm-Petrel
Pelagodroma marina
EN
White-fronted Tern
Sterna striata
-
White-throated Needletail
Hirundapus caudacutus
EN
White-winged Black Tern
Chlidonias leucopterus
-
Wood Sandpiper
Tringa glareola
EN

East Gippsland Shire – threatened mammals

Broad-toothed Rat
Mastacomys fuscus mordicus
VU
Brush-tailed Phascogale
Phascogale tapoatafa
VU
Brush-tailed Rock-wallaby
Petrogale penicillata
CR
Burrunan Dolphin
Tursiops australis
CR
Common Bent-wing Bat (eastern ssp.)
Miniopterus orianae oceanensis
CR
Dingo
Canis lupus dingo
VU
Eastern Bettong
Bettongia gaimardi gaimardi
EX
Eastern Horseshoe Bat
Rhinolophus megaphyllus megaphyllus
EN
Eastern Pygmy-possum
Cercartetus nanus
-
Eastern Quoll
Dasyurus viverrinus
EX (Vic)
Eastern Wallaroo
Macropus robustus robustus
EN
Grey-headed Flying-fox
Pteropus poliocephalus
VU
Leadbeater's Possum
Gymnobelideus leadbeateri
CR
Little Pygmy-possum
Cercartetus lepidus
-
Long-footed Potoroo
Potorous longipes
EN
Long-nosed Fur Seal
Arctocephalus forsteri
VU
Long-nosed Potoroo
Potorous tridactylus tridactylus
VU
Mountain Pygmy-possum
Burramys parvus
CR
New Holland Mouse
Pseudomys novaehollandiae
EN
Platypus
Ornithorhynchus anatinus
VU
Rufous-bellied Pademelon
Thylogale billardierii
Th
Smoky Mouse
Pseudomys fumeus
EN
Southern Brown Bandicoot
Isoodon obesulus obesulus
EN
Southern Myotis
Myotis macropus
-
Southern Greater Glider
Petauroides volans
VU
Southern Humpback Whale
Megaptera novaeangliae australis
CR
Southern Right Whale
Eubalaena australis
EN
Spot-tailed Quoll
Dasyurus maculatus maculatus
EN
Squirrel Glider
Petaurus norfolcensis
VU
White-footed Dunnart
Sminthopsis leucopus
VU
White-footed Rabbit-rat
Conilurus albipes
EX
Yellow-bellied Sheathtail Bat
Saccolaimus flaviventris
VU

East Gippsland Shire – threatened fishes

Australian Grayling
Prototroctes maraena
EN
Bluenose Cod (Trout Cod)
Maccullochella macquariensis
CR
Coxs Gudgeon
Gobiomorphus coxii
EN
Dwarf Galaxias
Galaxiella pusilla
EN
East Gippsland Galaxias
Galaxias aequipinnis
CR
Empire Gudgeon
Hypseleotris compressa
CR
Flat-headed Galaxias
Galaxias rostratus
VU
Flinders Pygmy Perch
Nannoperca sp. 1
VU
Freshwater Catfish
Tandanus tandanus
EN
Freshwater Herring
Potamalosa richmondia
EX
Grey Nurse Shark
Carcharias taurus
CR
Macquarie Perch
Macquaria australasica
EN
McDowalls Galaxias
Galaxias mcdowalli
CR
Murray Cod
Maccullochella peelii
EN
Murray River Rainbowfish
Melanotaenia fluviatilis
EN
Golden Perch
Macquaria ambigua
-
Roundsnout Galaxias
Galaxias terenasus
CR
Striped Gudgeon
Gobiomorphus australis
-

East Gippsland Shire – threatened reptiles & amphibians

Alpine Bog Skink
Pseudemoia cryodroma
EN
Alpine She-oak Skink
Cyclodomorphus praealtus
CR
Alpine Tree Frog
Litoria verreauxii alpina
CR
Alpine Water Skink
Eulamprus kosciuskoi
EN
Dendy's Toadlet
Pseudophryne dendyi
-
Diamond Python
Morelia spilota spilota
CR
Eastern She-oak Skink
Cyclodomorphus michaeli
CR
Eastern Snakenecked Turtle
Chelodina longicollis
-
Giant Burrowing Frog
Heleioporus australiacus
CR
Glossy Grass Skink
Pseudemoia rawlinsoni
EN
Green and Golden Bell Frog
Litoria aurea
-
Growling Grass Frog
Litoria raniformis
VU
Large Brown Tree Frog
Litoria littlejohni
CR
Leathery Turtle
Dermochelys coriacea
CR
Martin's Toadlet
Uperoleia martini
CR
Mountain Skink
Liopholis montana
-
Smooth Toadlet
Uperoleia laevigata
-
Southern Barred Frog
Mixophyes balbus
CR
Southern Toadlet
Pseudophryne semimarmorata
EN
Spotted Tree Frog
Litoria spenceri
CR
Swamp Skink
Lissolepis coventryi
EN
Tree Goanna (Lace Monitor)
Varanus varius
EN
Tussock Skink
Pseudemoia pagenstecheri
EN
Tyler's Toadlet
Uperoleia tyleri
-

East Gippsland Shire – threatened invertebrates

Alpine Darner Dragonfly
Austroaeschna flavomaculata
VU
Alpine Stonefly
Thaumatoperl a alpina
VU
Caddisfly
Archaeophylax canarus
-
Chequered Sedge-skipper Butterfly
Hesperilla mastersi
-
Common Pencilled-blue Butterfly
Candalides absimilis
-
Diving beetle
Antiporus willyamsi
-
Eastern Freshwater Shrimp
Australatya striolata
VU
Freshwater isopod
Colubotelson joyneri
CR
Golden Sun Moth
Synemon plana
VU
Inland Ringtail Damselfly
Austrolestes aridus
-
Large Ant Blue butterfly
Acrodipsas brisbanensis
EN
Riffle Shrimp
Australatya striolata
EN
Silky Hairstreak Butterfly
Pseudalmenus chlorinda zephyrus
-
Southern Sedge-darter Butterfly
Telicota eurychlora
EN
Stonefly
Riekoperla intermedia
EN
Two-spotted Grass-skipper Butterfly
Pasma tasmanica
EN
Wide-Faced Darner Dragonfly
Dendroaeschna conspersa
-

Crustacea

Alpine Spiny Crayfish
Euastacus crassus
EN
Claytons Spiny Crayfish
Euastacus claytoni
EN
East Gippsland Spiny Crayfish
Euastacus bidawalus
VU
Mallacoota Burrowing Crayfish
Engaeus mallacoota
CR
Murray Spiny Crayfish
Euastacus armatus
Th
Orbost Spiny Crayfish
Euastacus diversus
EN
Variable Spiny Crayfish
Euastacus yanga
VU
Note: - blank spaces indicate species previously on Advisory lists which have been reassessed as not threatened in Victoria.
Data Source: Information in this table has been derived from the Victorian Biodiversity Atlas (VBA), Department of Environment, Land, Water & Planning, Victoria, 2021. Flora and Fauna Guarantee Act Threatened List (FFG Threatened List, June 2021). Advisory List of Threatened Invertebrate Fauna in Victoria (2009), Victorian Department of Environment and Primary Industries, Advisory List of Threatened Vertebrate Fauna in Victoria (2013) and Department of Environment, Land, Water & Planning.